Canadian Brass to Perform at Howard
Top Headlines
Date:
April 10, 2012
Contact:
hpac@andrews.edu
Website:
Phone: 269-471-3560
Canadian Brass, perhaps the world's most famous brass ensemble, almost equally recognized for their uniquely spectacular sound and performances as for the ubiquitous white running shoes, will be performing at Andrews University on Sunday, April 15, 2012, at 7 p.m.
The group first came together in 1970 when Chuck Daellenbach and Gene Watts formed a brass quintet. The group quickly achieved international success, bringing the pleasure of brass music and the repertoire of chamber music to new audiences. Canadian Brass's repertoire features traditional brass pieces as well as a wide range of arrangements created just for them. They are able to play everything from ragtime to popular favorites, as well as the Christmas pieces and marches they are so well known for.
Canadian Brass has recorded over 90 albums as well as maintaining an international touring schedule. They were the first Western brass ensemble to perform in the People's Republic of China, and have performed in the Middle East, the Soviet Union, Australia and South America.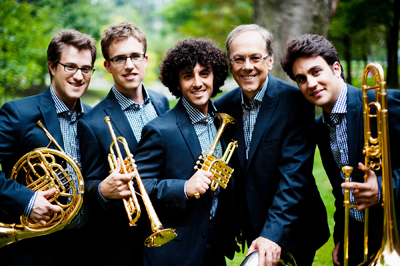 The group is comprised of Chuck Daellenbach on the tuba; Christopher Coletti and Brandon Ridenour on the trumpet; Achilles Liarmakopoulos on the trombone; and Eric Reed on the horn. The Canadian Brass is the chamber quintet-in-residence at the Music Academy of the West in Santa Barbara, Calf.
Tickets for Canadian Brass can be purchased by calling the Howard Performing Arts Center box office at 269-471-3560 or 888-467-6442. Tickets for reserved seating are $35, faculty and staff tickets are $30 and Andrews University student tickets are $10. Special rates apply for groups and Flex Series tickets. Learn more by visiting
www.howard.andrews.edu
.