Silent Prayer Walk for Social Justice
Top Headlines
Date:
April 20, 2012
Contact:
pr@andrews.edu
Website:
Phone:
During a time when the nation is transfixed on the unfolding details surrounding the death of Trayvon Martin, nearly 200 members of the Andrews University community showed their solidarity by participating in a Silent Prayer Walk on a Sabbath afternoon, April 6.

Edsel Cadet, an MDiv student and administrative pastor for New Life Fellowship, was a member of the core planning team. When the nation began reacting to the Trayvon Martin case, Cadet says, "We recognize that, as Christians, it's our duty to seek justice, as the Bible says in Isaiah 1:17, 'Learn to do right; seek justice. Defend the oppressed. Take up the cause of the fatherless; plead the case of the widow. (NIV)'" From this, the idea for a Silent Prayer Walk was born.

Walking four abreast, the Silent Prayer Walk began at the Seminary. Along the walk, there were three prayer stops with students leading in prayer at each one. The stops were marked with chalk outlines of a man laying on the ground with words indicating the theme of that particular prayer stop written within the outline. The drawings were a way for the participants to be able to visually identify with the prayer focus. At the first stop, Alicia Johnston prayed for an end to violence; at the second, Shantal Smith prayed for an end to racial profiling; and finally, Edson Patrice prayed for an end to social apathy.
"Social apathy in and of itself is a social justice," says Cadet. "It's not Christian to be socially apathetic, to not care or have compassion for those around you who are suffering."
The final stop was at the steps to Pioneer Memorial Church, fittingly, underneath the words, "A House of Prayer for All People." There, following special music and poem reading by Kimberly Pearson, Tim Nixon, chaplain shared the reasoning behind the Silent Prayer Walk.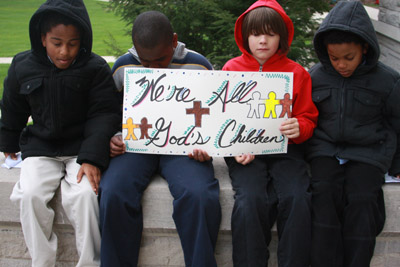 People of all ages participated in the Silent Prayer Walk. (Contributed photo)
"When bias and discrimination are practiced, God's people cannot remain silent. And so we gather today not to throw a brick, but to build a bridge. A bridge of hope, healing & harmony," said Nixon. "Because every person is our brother and sister, we stand not only with Trayvon Martin but we also stand with George Zimmerman. For He is our brother as well. As Christians we cannot choose whom we shall love. Jesus commands us to love our enemy, so whatever you may feel about this incident, we must love George Zimmerman as well because he is our brother."
At the conclusion of the Silent Prayer Walk, Joseph Warren, professor of English, offered a prayer for racial reconciliation while Japhet De Oliveira, chaplain, asked for God's hands to be upon George Zimmerman and his family. Dwight K. Nelson, head pastor of Pioneer Memorial Church, offered a special prayer for justice for Trayvon Martin and his family. Desmond Murray, assistant professor of chemistry, offered the closing prayer.

"We didn't want to be like the rest of the world in terms of protesting or marching with angry fists. As Christians it's our duty to be compassionate and seek compassion for not only the family of Trayvon Martin but also for George Zimmerman," says Cadet. " We can pray for those who we may feel to be against or whom others may deem to be our enemies. As Christians, we want to see everyone in heaven."