Weithers Named Associate Dean
Top Headlines
Date:
July 19, 2012
Contact:
pr@andrews.edu
Website:
Phone:
Following an extensive search of both internal and external candidates, Deborah Weithers has been named as the new associate dean for Student Life. She is replacing Paul Buckley, who left Andrews in October 2011 to accept a position at Dartmouth College. Weithers' first day in her new position was July 2, 2012.
"I am thrilled Debbie has accepted our invitation to join the Student Life Team. She has extraordinary experience and service in higher education, and already has strong established relationships at Andrews. In addition to her exceptional management and programming skills, Debbie has a deep passion for Andrews University and the students we serve," says Frances Faehner, vice president for the Division of Student Life.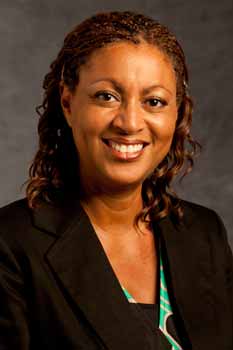 Deborah Weithers
Most recently, Weithers was a senior development officer for the Office of Development. Prior to that, she served for eight years as manager of the Howard Performing Arts Center on the campus of Andrews University. At the Howard, Weithers was responsible for programming and frequently interfaced with various entities of Student Life and student clubs hosting events. "These skills will serve Debbie quite well in her role as associate dean as the position has major programming responsibilities, including University Forum," says Faehner. As associate dean, Weithers will also serve as chair of the Black History Committee and the Martin Luther King Jr. Planning Committee. Weithers has served on the Black History Committee for three years.
Weithers has worked as an associate financial advisor for American Express Financial Advisors in St. Joseph, Mich. She is also an alum of both Andrews University and Andrews Academy.
"I am confident my previous experience, especially my work at the Howard Center, along with my personal desire to make a difference in the lives of my colleagues and the students at Andrews University, will enable me to have an immediate and positive impact in the Division of Student Life and at Andrews University," says Weithers. "I am passionate about Andrews and the influence it has not only on graduates, but through them, our wider global community. What a wonderful opportunity in Student Life to help shape the student experience."
Student Life is also pleased to welcome several additional team members.
Lamson Hall has added A'Lisa Lashley to their team as an assistant dean of women. After serving Blue Mountain Academy as the dean of girls, Lashley returns to Lamson Hall, where she previously served as a student dean. Lashley will be working with Teela Ruehle, assistant dean of women; June Madrigal, associate dean of women; and Jennifer Burrill, dean of women.
At Meier Hall, Zachary Juniper, who has served as assistant dean of men for five years, is leaving Andrews. Donnie Keele, who has been working as a student dean at University Towers, has accepted the invitation to join the team at Meier Hall. Keele will be working with James Price, assistant dean of men, and Spencer Carter, dean of men.
The staff at University Towers, home to Damazo and Burman Halls, is being refocused to utilize their team members to better serve the comprehensive needs of both the students who reside there as well as the guests who utilize Guest & Convention Services.
David Iwasa, who hasserved as dean of University Towers will also serve as director of Guest & Convention Services. Willyta Wamack, who formerly served as coordinator for Guest & Convention Services, has accepted the position of housing assistant for University Towers. In this newly designed position, Wamack will coordinate housing for all University Towers residents and support Dean Iwasa in the University Towers program. A search process is underway to fill a newly shaped position of assistant dean of University Towers/assistant director of Guest & Convention Services.
The Office of International Student Services welcomes Nancy Ruiz as an international student advisor. She is replacing Irlacy Rodriguez who served in that role for nearly 10 years. Rodriguez and her family returned to their home country of Brazil.