Campus Master Plan Survey
Top Headlines
Date:
September 17, 2012
Contact:
Website:
http://www.andrews.edu/campusplan/?page_id=74
Phone:
The Campus Design Studio from the School of Architecture, Art & Design conducted the first campus planning workshop on Sunday, Sept. 9, in the Hoosier and Lincoln Rooms of Dining Services. More than 75 students, faculty, staff, alumni, and community residents attended the two-hour workshop, which was opened with some motivating remarks by President Andreasen. The event included an open-house presentation of more than 40 large-scale maps, diagrams, and outlines illustrating existing campus assets, challenges and known plans. Breakout sessions continued with small group discussion about campus planning priorities. The workshop ended with a 21-question survey about various campus planning issues. Learn more about the first campus planning workshop.
Take the Survey
If you were unable to attend, your input is still needed and highly valued! Please visit www.andrews.edu/campusplan/?page_id=74 to take a short survey offering your input in campus planning. The survey will be available until Sept. 20, 2012.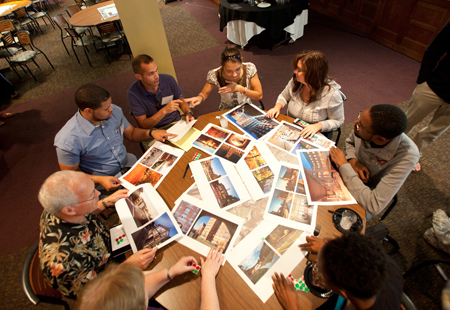 Participants were asked to review images of other campuses and identify which images could appropriately inspire campus development at Andrews University. (Photo by IMC photographer Darren Heslop)