New Issue of Envision Now Available
Top Headlines
Date:
November 15, 2012
Contact:
dmichel@andrews.edu
Website:
Phone:
The latest issue of
Envision
, Andrews University's Christian collegiate magazine, was formally launched on Thursday, Nov. 8, in the Campus Center. This is the fourth annual issue of the collegiate magazine produced by the collaborative effort of Andrews' students from multiple academic disciplines.
"The students have once again outdone themselves providing top-notch writing, photography and design," says Debbie Michel, associate professor of communication and editor-in-chief of
Envision
.
This year's issue features articles on many topics of special interest to students, including ways to stay energized, how to get a great internship, and how to erase student loan debt. The new issue also includes several feature articles on Andrews' students. "We feature some students who've tackled some pretty daunting challenges head-on, which, of course, would not be possible without the power of God in their lives," says Michel. Among these inspirational stories is the cover story for this issue, featuring "G.I. Joe Rivera." "I believe there's something in that story that will encourage and revitalize anyone who reads it," says Michel.
Envision
is created entirely by students in the classes Publication Production, Advanced Media Writing, Publication Design, and Studio Photography. Students were able to apply the skills they were learning in class to produce a finished, real-world product.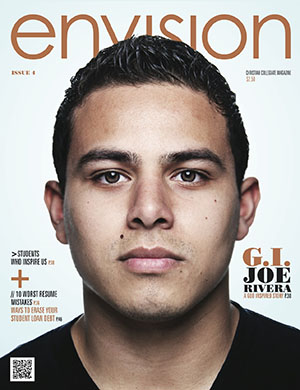 "It's a great portfolio piece for them to show what they can do, in settings as close to the real world as a college environment allows," says Michel. Students receive firsthand experience in every step of the process of writing, editing, designing and photographing a magazine.
"It was a great experience and I learned a lot about how a magazine works," says Tacyana Behrmann, one of the magazine's student editors. After her first year working on the magazine, Tacyana feels that she learned a lot about the business. "It gave me a look into the magazine publishing world—what it takes and the work that goes into it," she says, describing how she used the campus "grapevine" to find stories for the magazine. Tacyana was one of about 50 students who were involved in producing this issue of Envision.
Envision
is available for purchase for $2.50 at the Gazebo, the Andrews Bookstore, Apple Valley, Harding's and the ABC. For more information on
Envision
or to get involved in the next issue, contact Debbie Michel at
dmichel@andrews.edu
.