Renaissance Kids Builds at Andrews
Top Headlines
Date:
November 15, 2012
Contact:
mmoreno@andrews.edu
Website:
http://www.andrews.edu/go/renaissancekids
Phone:
On Sunday, Nov. 4, the Renaissance Kids Architecture Day Camp students and their families gathered for roasted marshmallows around a newly built fire pit nestled along a row of decorative piers to celebrate the completion of another successful year and finished project. Renaissance Kids is an architecture day camp for kids ages 5–16, held each summer at the Andrews University School of Architecture, Art & Design.

Every year during the final session of the Andrews University Renaissance Kids Architecture Day Camp, children participate in a hands-on, real-world project that benefits their community. This year, campers turned their attention to building something right on the Andrews campus: a social gathering area featuring seven masonry 7-foot piers lining a sidewalk that leads to a fire pit. It's located between the Art & Design Center and the Architecture Building. Past projects have included a whisper dish at the Curious Discovery Zone Museum and piers in front of the Curious Kids Museum, both in St. Joseph, Mich.

The Renaissance Kids project design is intended to symbolize and celebrate the recent union of the School of Architecture with the Department of Visual Art & Design into the newly created School of Architecture, Art & Design.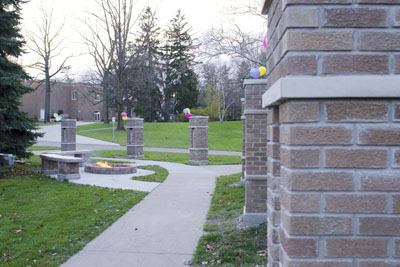 The project included a social gathering area with seven masonry 7-foot piers
lining a sidewalk that leads to a fire pit. (Photo by IMC photographer Joshua
Martin)
"We aimed to create a place for students to socialize," says Mark Moreno, associate professor of architecture and director of Renaissance Kids. Since the art students and architecture students only have a couple of classes together, Moreno and Steve Hansen, professor of art, wanted to create a place where the two groups could meet and interact. "It's a literal but also figurative representation of the merging of art and architecture," says Moreno. "We've actually enmeshed art into those piers in two ways. The front recess in the piers is filled with clay art made by the Renaissance kids and then Andrews University art students are designing sculptures for the tops of the piers."
Renaissance Kids is a program that includes five weeklong sessions and one two-weeklong session during June and July for children ages 5–15. Children learn about design, drafting and building skills by participating in projects that also teach them lessons in history, community, culture and citizenship.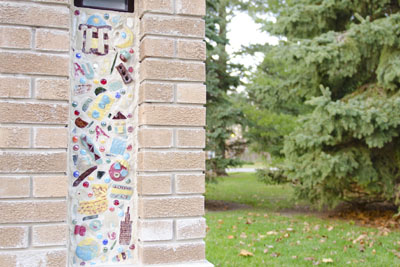 Art created by the Renaissance Kids campers was embedded into the
masonary piers. (Photo by IMC photographer Joshua Martin)
This year's project required the collaboration with the School of Architecture, Art & Design, the Offices of Plant Administration, Plant Service, Grounds/Arboretum, Transportation and numerous volunteers from the campus and community. Moreno says, "Special mentions belong to Dave Wilber, retired Plant Administration director, who tirelessly donated three weeks of his time to help form and pour the concrete foundations for the pit and piers, and Jim Hippler of Exquisite Homes who voluntarily generated design drawings and helped the kids during the construction week." Moreno says about 20 architecture students volunteered many hours to help finish the construction. Additionally, Siena Moreno and Jessica Snively, both highschool students, volunteered their service throughout the summer camp experience.