NEDAwareness Week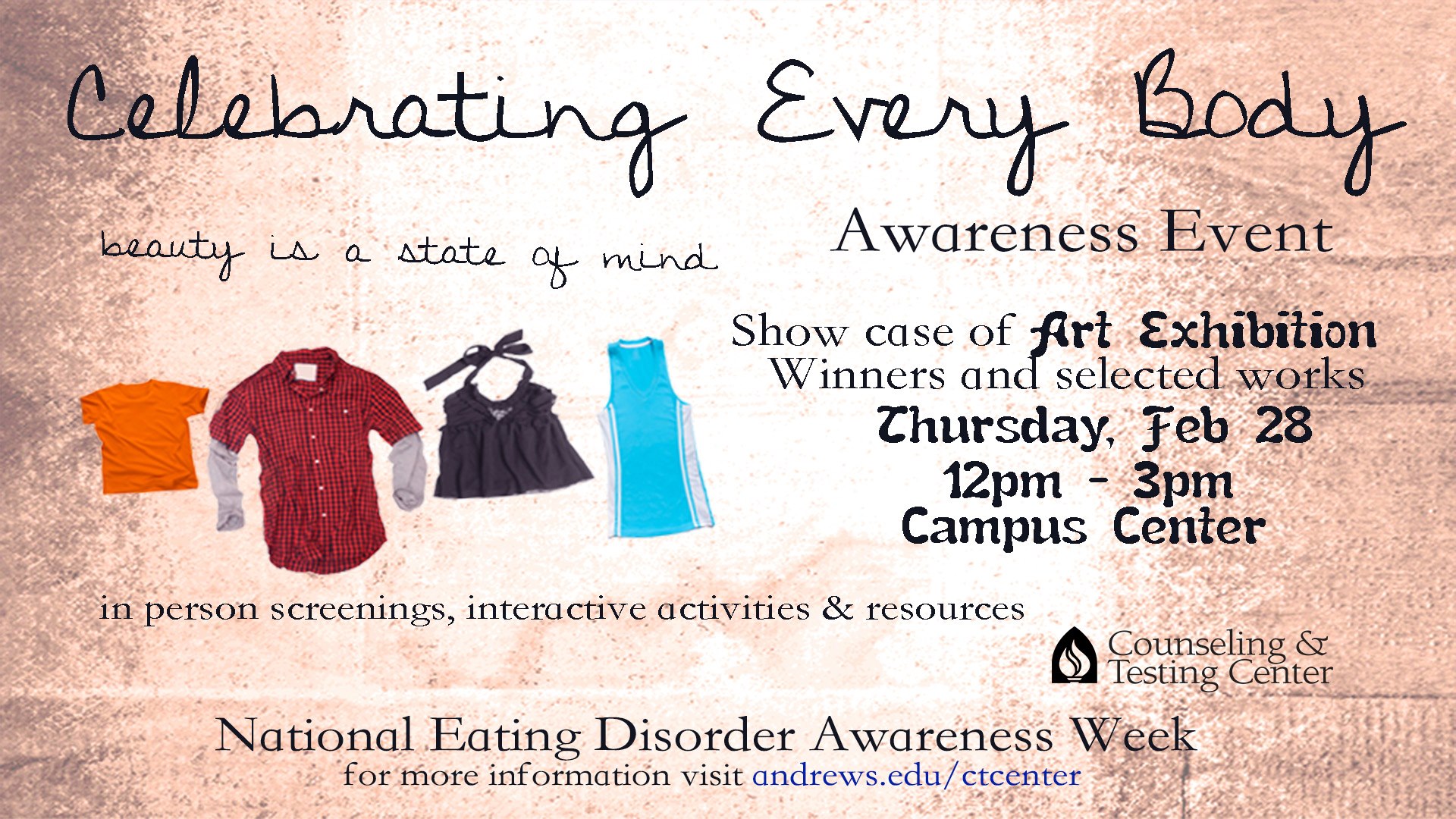 Workshop: "Self-Esteem, Body Image and Eating Disorders"
On Tuesday, February 26th, Counselor Leilani Langdon and Counselor Intern LaKeSha Morris will be offering the educational workshop "Self-esteem, Body-image, and Eating Disorders" during the Tuesday Choices program. Come and learn about the link between the way you think and feel about your body, your mood, and eating habits. Find out where you can find help for yourself or for your loved one. This program is open to students and will be held at Buller Hall, Room 149, from 11:30am – 12:30pm.
Art Competition: "Celebrating Every Body"
Students are invited to submit works of art that reflect this theme. A panel of counselors will select pieces to be exhibited at the Campus Center during our Awareness Event and will award prices to the three pieces that best represent this theme (Amazon.com gift cards for $75, $50, and $25, respectively). For more information about how to submit your work of art, download this pdf file: Art Competition Rules and Application.
NEDAwareness Event
Faculty, staff, and students are welcomed to participate during our NEDAwareness Event on Thursday, February 28th, 2013, from 12pm-3pm. We'll have a "Message Board" where the AU community can post messages of acceptance and encouragement. The selected works of art reflecting the theme "Celebrating Every Body" will be on display, including the award winners. Also, the Counseling & Testing Center will have information about eating disorders and will be offering in-person screenings.
The eating disorder screening consists of a brief, anonymous questionnaire designed to provide students with insight into symptoms they might be experiencing and receive helpful treatment and referral information, if necessary. In addition to in-person screenings during the Awareness Event, students can access an anonymous screening online at http://www.mentalhealthscreening.org/screening/andrews
Excessive preoccupation about weight and diets can lead to disordered eating habits. These unhealthy habits can be difficult to recognize, but over time, can develop into an eating disorder. The majority of students struggling with eating disorders are not receiving treatment. The screenings available help direct students to the appropriate care they need.
Eating disorders are more prevalent on college campuses than many people realize. In fact, 95 percent of those who have eating disorders are between the ages of 12 and 25. Twenty-five percent of college-aged women report engaging in bingeing and purging as a weight-management technique. And college males are not immune. Increasingly, men are feeling the pressure for physical perfection which can lead to excessive exercise and fixation on low body fat percentage.
Come, participate, and help in promoting a healthy body image and greater awareness of eating disorders in our community. For more information, contact Luis G. C. Ortega, LPC, NCC at cluis@andrews.edu.