Wellness Week - Fall 2012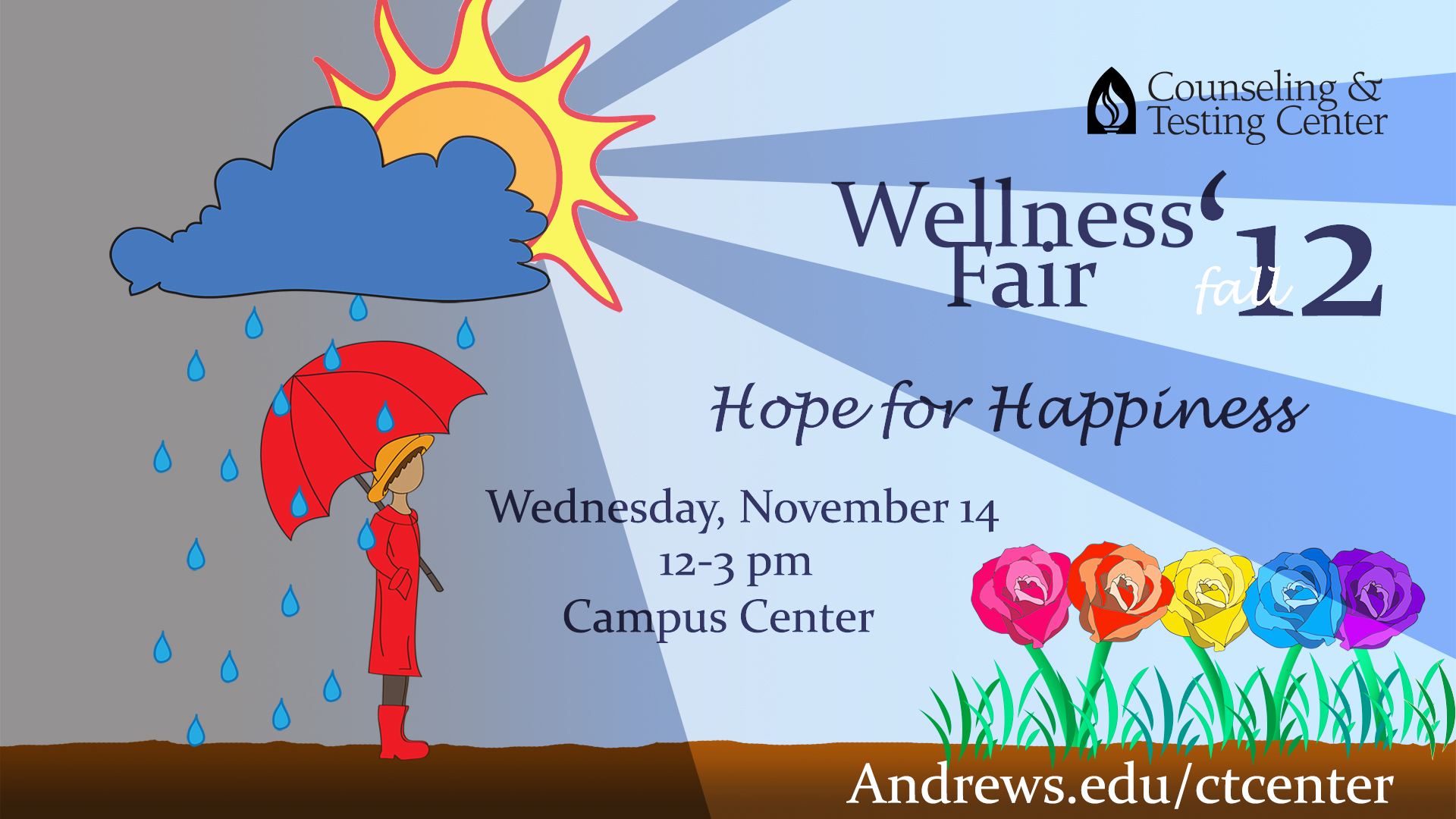 The Andrews University Counseling & Testing Center has been sponsoring a Wellness Week for the past six years. The main event is the Wellness Fair. This is an expo of campus and community organizations that foster the integration of wellness through education and practice, leading to lifelong healthy living. This reflects the Center's holistic approach to wellness that considers the interdependence of these dimensions: physical, emotional, spiritual, intellectual, social, occupational, and environmental.
This semester, we'll be emphasizing how the development of balance in each dimension can contribute to emotional wellness. We want to encourage students to learn about services, activities, and opportunities for community engagement that can assist them to strengthen their ability to access, express, and manage a wide range of feelings, embrace a high sense of self-worth, healthy humor, and a positive body image. These skills are essential in managing life and its responsibilities with competency.
These are some of the organizations that will participate in our Wellness Fair:
The Depression and Bipolar Support Alliance of Michiana offers weekly support groups that provide education and support to adults who have been diagnosed with bipolar disorder or depression and to family members of those struggling with one of these illnesses. Students will learn about their services and how they can become involved in raising awareness about mental health and providing support to others.
The Best Friends 4-H Club is a canine therapy competition club specifically designed for youths in Berrien County, Michigan to learn about the many aspects of dogs, dog training and dog competition. They often work with youth with disabilities and their therapy dogs. Students will be able to interact with two therapy dogs, learn about their canine training program and the benefits of dog therapy, meet one of their young club members and his therapy dog, and inquire about their summer volunteer program.
Still Waters is a retreat center in southwest Michigan that provides a space for solitude, contemplation, and renewal. They offer individual and group retreats, massage therapy, and spiritual companionship. Students will learn about their services and how these experiences can boost their emotional wellness.
Love Creek Nature Center is a nature park close to Andrews University. This is a beautiful natural area with trails for hiking, biking, and country-skiing. Students will learn about their educational services and programs (e.g., Michiana wildlife, winter birds, ecology, and country-skiing).
Village SDA Church's WellSpring Program offers support groups to the community for individuals struggling with grief, loss, and divorce. Students will learn about these support groups and how to refer friends or family members that might benefit from them.
The Counseling & Testing Center will have information about emotional wellness, mental health, and our professional services. Students will be able to take a screening for depression and anxiety disorders. If needed, our staff will provide information about how to access help.
Workshop: "Boosting your Psychological and Spiritual Resiliency"
Want to learn more about emotional wellness? Come and participate in our workshop: "Boosting your Psychological and Spiritual Resiliency." Dr. Christopher Denda, one of our staff psychologists, will help you to discover the psychological and spiritual strategies that can help you to bounce back during a difficult time and assist you in coping effectively. The workshop will be held at the Leadership Lab (next to the office of Student Life) on the Campus Center on Thursday, November 15th, from 6:30pm-7:30pm.
Come and learn about the services and activities in our community that can support your search for balance and wellness. Participate in our Wellness Week events!
Collection Drive:
We're also asking our community to help the Depression and Bipolar Support Alliance (DBSA) of Michiana to collect items for the patients at Lakeland's behavioral healthcare ward. They are requesting the following:
Sudoku, word search and crossword puzzle books, big numbered playing cards, big piece 100 piece jigsaw puzzles, markers, crayons, sharpened colored pencils, current magazines (please remove your name and address before donating), and plain paper for drawing and writing.
Those interested in donating can drop items at the CTC during business hours (Monday – Thursday 8:30am-12:30pm, 1:30pm-5:30pm, and Friday 8:30am-12:30pm) from November 12th-30th and at the Depression and Bipolar Alliance table during the Wellness Fair on November14th, from 12-3pm, at the Campus Center.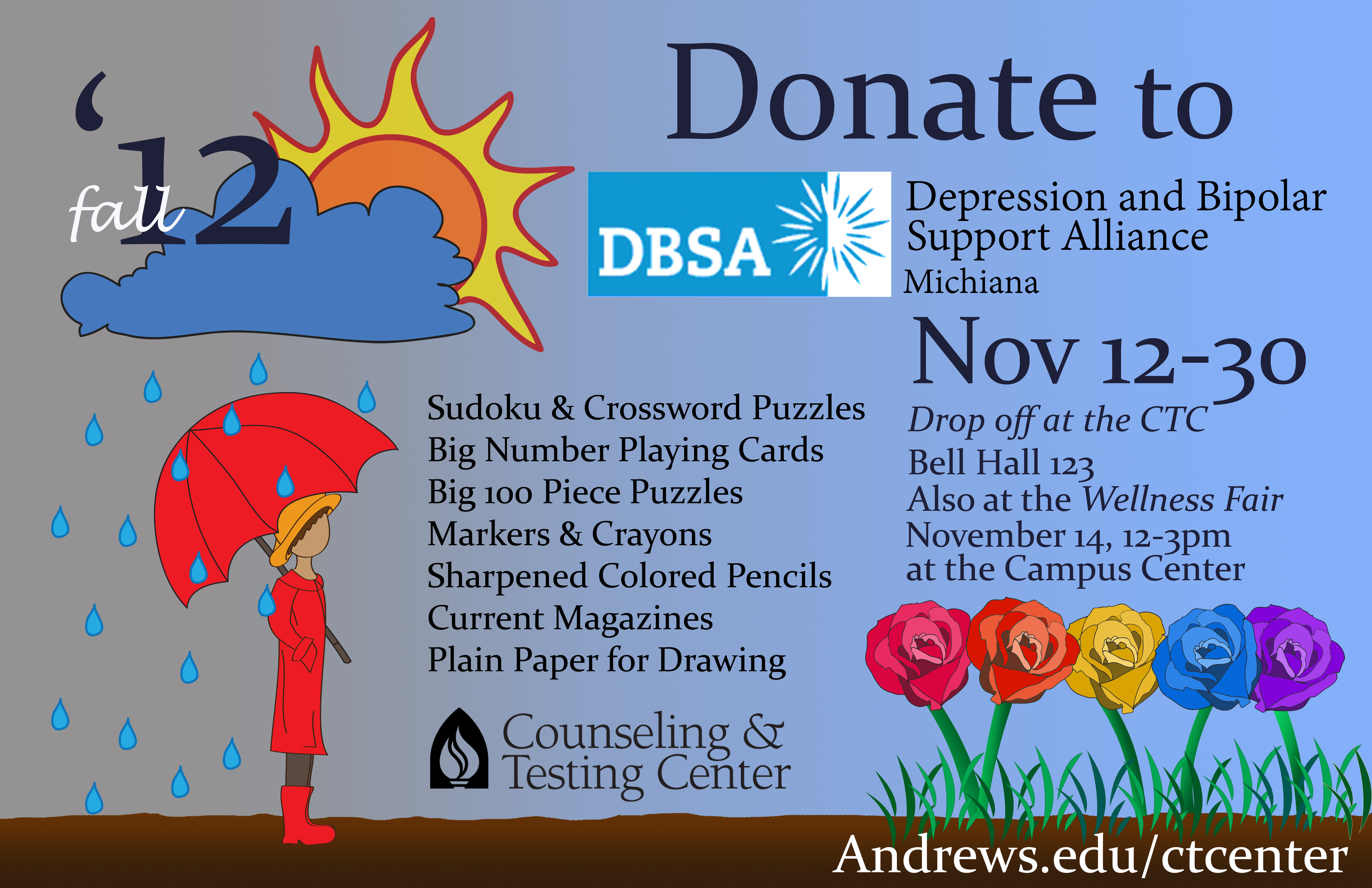 These event are free and are open to students, faculty, and staff and their families. Students will receive co-curricular credits for participating. For more information about our Wellness Week events email Luis G. C. Ortega, LPC, NCC at cluis@andrews.edu. Join us on Facebook to receive updates about upcoming events.