Phonathon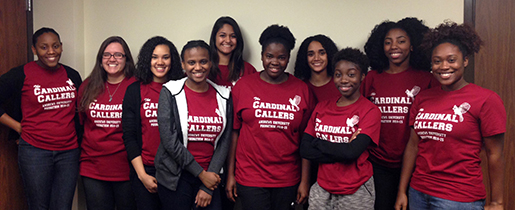 The Andrews University Phonathon was established with the intention of creating relationships between current students and the thousands of Andrews alumni and friends who have shared in the Andrews Experience throughout the years.
The first goal of Phonathon student callers is to have a meaningful conversation with each person they speak with. Students love hearing your stories and memories of campus, and sharing their own experiences as they navigate school, work, friendships, and most importantly, deepen their relationship with God at an Adventist institution.
At the end of your conversation, students will offer you the opportunity to show your support of Andrews through a donation. Donations raised through our annual Phonathon support the Fund for Andrews. No matter how big or small, each gift truly makes a difference in the lives of students.
Corporations and foundations make their funding decisions based on the number of donations Andrews receives, not the amount. Additionally, U.S. News & World Report bases their rankings on the percentage of alumni who give back to Andrews, not the amount they give. So it's not how much you give, it's that you give.
Our students look forward to speaking and praying with you this year, hearing your Andrews Experience, and where God has led you on your journey. Thank you in advance for enriching their lives through your words and gifts.