Highlights '10-'11
26 April 2011
Honors Hoagie Fest
15 April 2011
Spring 2011 Thesis Symposium
14 April 2011
Western Heritage students perform Tartuffe
06 April 2011
Photos from Dr. Pittman's class, during which student Ashley Boyko brought balloons for her birthday, and photos from the World View Extravaganza study session organized by Theron Calkins.
05 April 2011
Honors Western Heritage students practice for the Tartuffe play.
31 March 2011
Honors students inducted into the local chapter of Phi Kappa Phi, the interdisciplinary honors society.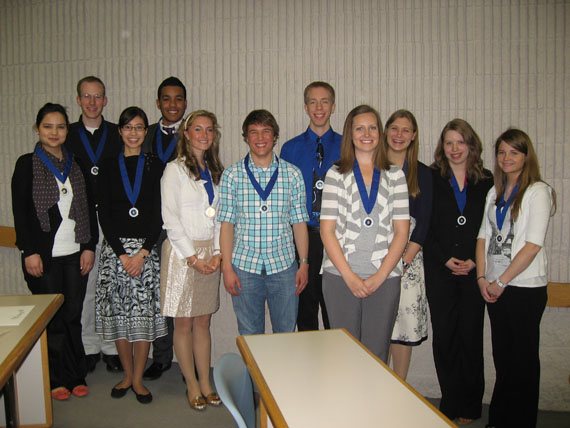 06 March 2011
Honors students participating in the Young Artists Concert, featured in Week of Pictures
04 March 2011
Honors Poster Session featured in Week of Pictures
01 March 2011
As You Like It Honors outing at the Chicago Shakespeare Theater
And some of the students posing with one of the actors: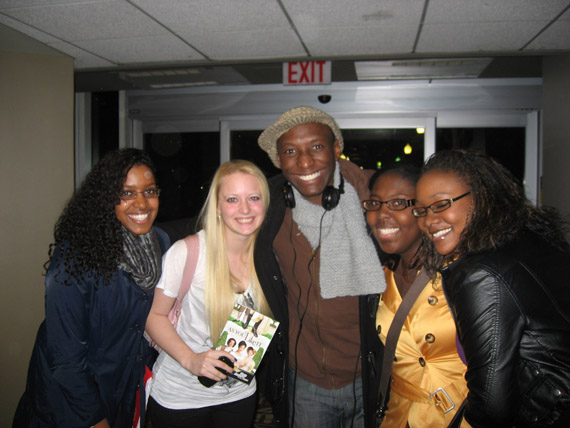 26 Feburary 2011
Honors Agape Feast
20 February 2011
Les Miserables outing in Chicago
10 February 2011
Book reception party for Dr. Pittman
10 February 2011
Honors students Larnell Smith and Tawanna Persaud running for SA offices
09 February 2011
Western Heritage Small Groups Meeting
03 February 2011
Honors student Lindesy Hollister, section editor of Envision Magazine, together with Glenn Roper, project manager, at the Envision Magazine Launch Party. Photograph taken from Week in Pictures, taken by IMC photographer Esther Nooner.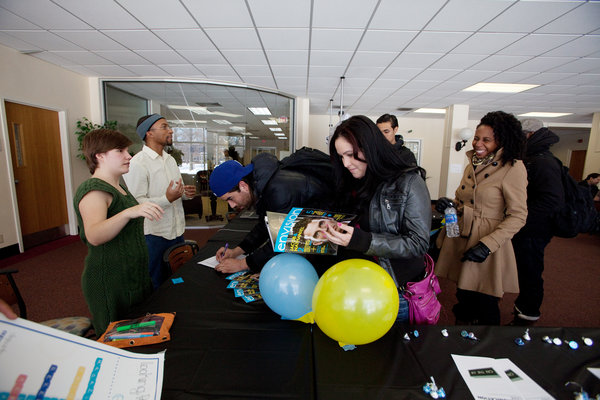 31 January 2011
Yo Yo Ma Concert
25 January 2011
Western Heritage small group meeting
24 January 2011
Honors Student Evan Knott preaching in PMC for a Week of Spiritual Emphasis chapel. Photo taken from Week in Pictures, taken by Esther Nooner.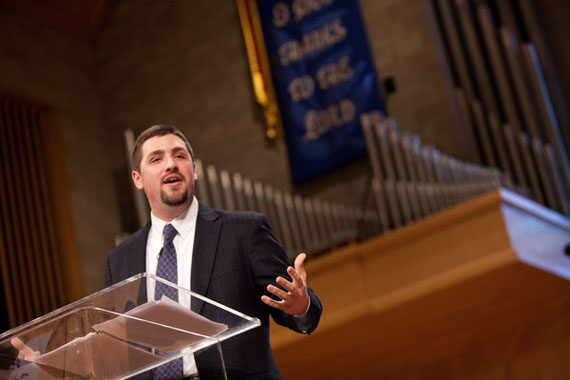 01 January 2011
A Lake Union Herald Online article (written by Action Club president Jason Lemon) features Honors students who participated in Habitat for Humanity. Click here to read the entire article.
02 December 2010
Fall 2010 Thesis Symposium
02 December 2010
Honors Toy Drive
30 November 2010
Thinking Theologically students masquerade as Dungeons and Dragons characters.
19 November 2010
Honors Western Heritage students perform Richard III.
27 October 2010
Honors students working hard to help the Habitat for Humanity project.
13 October 2010
Honors trip to the Chicago Shakespeare Theatre to see Romeo and Juliet.
02 October 2010
Dr. Gary Land and Dr. John Markovic at Dr. Land's retirement party.
01 October 2010
Many Honors students participated in the Alumni Parade, on Friday, October 1.

25 September 2010
Candide outing
11 September 2010
Honors Agape Feast
2010 Summer Graduation
Photos of the 2010 summer honors graduates