Guide to CAPP
What is CAPP?
(Curriculum Advising and Program Planning)
Degree Requirements & What-If Analysis
What is CAPP?
CAPP (Curriculum Advising and Program Planning) is a tool for comparing a student's coursework against a specific set of program requirements needed to complete their graduation requirements. The CAPP report will answer questions such as:
What are the requirements for the given program?
What courses has the student taken?
Which requirements have and have not been met?
Total Upper Division credits met
Major GPA
What If Analysis
For students who have not yet declared a major the CAPP report will show how the classes a student has completed to date can fulfill the graduation requirements for any AU major by using the "What If Analysis." Interested in adding a minor? A CAPP report will provide the requirements needed for all approved AU minors.
Access Student iVue Profile
Students:
1. Go to http://vault.andrews.edu/vault/goto/home
2. Click iVue. You will be prompted to enter your Andrews user
name and password. Click "Login".
Advisors:
1. Open list of advisees.
2. Select "Profile" for student.
Select the correct term
Verify that your major, concentration, minor, and preprofessional program are listed correctly.*
To the right of your photo, click on "View Degree Progress (CAPP)".
*Major, concentration, minor or preprofessional program incorrect? Contact the Student Success Center, majorchange@andrews.edu or 269-471-6096.
Generate Evaluation
1. Selecting Degree Progress opens a new window (see below).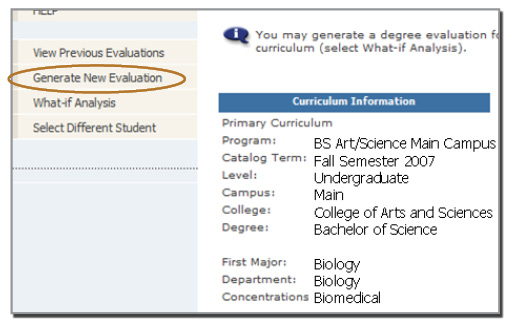 Check to make sure the information is correct—especially the catalog term and any concentrations or minors. If correct, select "Generate New Evaluation" from the menu on the left. This takes a few moments.
2. "Generate New Evaluation"
Click to select the program you want to run. Only one program may be selected at a time. Click "Generate Request".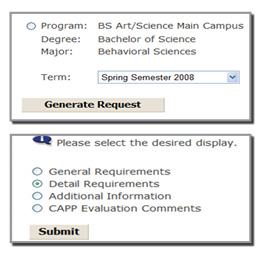 CAPP will automatically pull up a future term. You do not need to change the term.
3. Select from the following options:
General Requirements lists the overview of the courses as evaluated.
Detail Requirements lists specific requirements for majors, concentrations, minors, cognates, and general education.
Additional Information lists any courses not used by CAPP, such as Deferred Grades, Incompletes, In-Progress courses, and grades which do not meet minimum requirements.
CAPP Evaluation Comments do not always appear. You may want to check the comments to see what adjustments have been made.
How To Read Your CAPP Report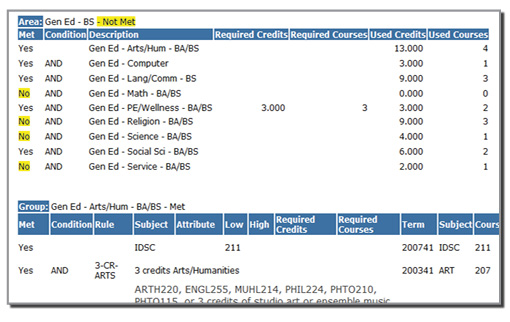 Example of a CAPP report, looking at general education requirements.
Highlighted areas have not been completed ("Not Met").
"Source" indicates the status of the class—R is for registered courses; T is a transfer course; and H is a course taken at Andrews.
Transfer courses appear as their Andrews equivalent. They can appear as a direct equivalent (HIST 118) or an indirect equivalent (HIST 000).
Petitioned classes will often appear with "-pet" afterwards.
Waived requirements will usually be listed as "Waive, no credit".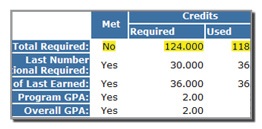 This is an example of what appears at the top of a CAPP report. This is where you find the number of credits required for your degree, used credits, your program GPA and your overall GPA. Used credits is the number of credits taken combined with registered credits.
**CAPP problems or questions? Please contact Undergraduate Records Office, ugrecords@andrews.edu or 269-471-3305.