What's New
DNP Program at Andrews University - Summer 2015
With almost 50 years of impacting healthcare around the world, the Andrews University Department of Nursing continues with stellar preparation of nurses at both undergraduate and graduate levels. The conceptual framework upon which all curricula are based is "Restoration to the Image of God."
Beginning summer 2015, the Department of Nursing plans to offer a Doctor of Nursing Practice (DNP) program with an emphasis in Family Nurse Practitioner. Andrews is the first Seventh-day Adventist nursing program to offer a program allowing students to move directly from a Bachelor of Science track to the DNP; this preparation will contribute to healthcare providers for mission fields far and near.
For more information contact the Nursing Department at 800-877-2862 or 269-471-3311/3312
To apply, contact the Office of Graduate Enrollment Managment at
855-428-4723 or 269-471-6321 or email graduate@andrews.edu.
Nancy Carter's Retirement - May 2014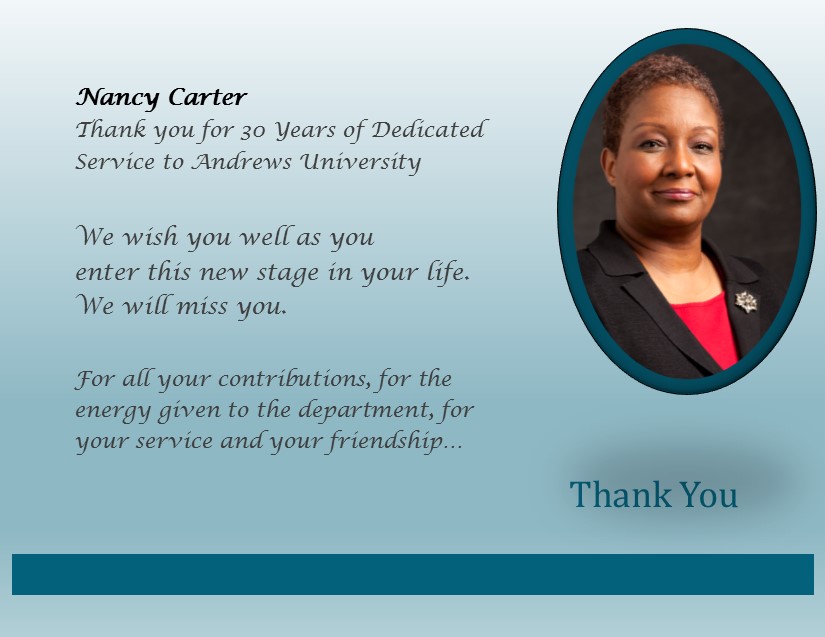 Recruiting at Its Best!
Tuesday, May 14, 2013 at 10:30 18, 2nd graders from RMES, marched single file into the Nursing Department following their teacher Gina Yoon. The class came to learn how our students become nurses. They spent time in the Skills Lab with Mrs. Mary Ngugi the lab coordinator, learning how our students get ready for their clinical experience. They also met with Mrs. Gisele Kuhn, one of our faculty and spent time with Bob (our SimMan – high tech mannikin) to check his pulse and check breaths per minute.
They also learned that part of nursing was teaching about health prevention and promotion. In the end some mentioned they wanted to become nurses when they were older.
The Nursing Department was delighted to be visited by the 2nd Grade class from Ruth Murdock Elementary School.