Professional Goals
DPT Program Goals
In order to achieve the Physical Therapy Department mission, the DPT program goals are to:
Attract Christian students who are committed to physical therapy as a profession.

Prepare graduates who are primary Health Care providers ready for contemporary professional practice in a variety of settings.

Provide an environment where students are able to critically evaluate professional literature to promote evidence-based practice.

Prepare graduates who demonstrate ethical behavior consistent with professional and legal standards.

Provide an atmosphere where students learn respect for individuals from a variety of ethnic or cultural backgrounds.

Prepare graduates who have compassion for the patient/client as a whole person, taking into account their spiritual needs.

Prepare graduates who communicate effectively with patients/clients, colleagues and other constituents.

Promote and support faculty scholarly activities and facilitate faculty educational and professional development.

Maintain compliance with CAPTE standards.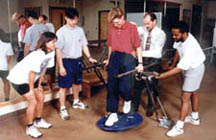 DPT Faculty Goals
In order to deliver the knowledge base and clinical skills that will prepare students for contemporary clinical practice, the DPT faculty goals are to:
Be connected to their profession through licensure and professional membership.

Hold a postprofessional degree at the doctoral level.

Maintain contemporary knowledge/practice expertise in assigned teaching area.

Collectively develop, review, and revise the physical therapy curriculum plan.

Admit students into the DPT program who have an appropriate balance of prerequisite courses and the ability to successfully practice in the profession.

Maintain currency in instruction and teaching methods including course content, design and evaluation methods.

Have an on-going scholarship agenda which culminates in the peer-reviewed dissemination of original contributions.

Actively be involved with service to the department, university, profession and/or community.

Serve as role models for professional behavior.

Incorporate a Christ-centered education into the physical therapy classroom.

DPT Student Goals (Expected Student Outcomes)
The mission of the DPT degree program is to graduate competent entry-level physical therapy practitioners who are able to minister to the needs of others. To accomplish this, graduates will be able to:
Demonstrate in-depth knowledge of the basic and clinical sciences relevant to physical therapy, both in their fundamental context and in its application within professional clinical practice.

Provide primary care to patients/clients within the scope of physical therapy practice.

Possess the critical inquiry skills necessary to evaluate professional knowledge and competencies in relation to evidence-based physical therapy practice.

Demonstrate effective communication skills in professional practice.

Demonstrate competency in entry-level clinical skills necessary to conduct a comprehensive physical therapy examination, perform a physical therapy evaluation, establish a differential diagnosis, determine an appropriate prognosis, and establish intervention and/or prevention activities.

Understand the capabilities of other health care providers and determine the need for referral to those individuals.

Participate in practice management including delegation and supervision of support personnel, financial management, business planning, marketing and public relations activities.

Demonstrate legal and ethical behavior consistent with professional standards.

Demonstrate sensitivity to individual and cultural differences when engaged in physical therapy practice.

Model behavior which reflects Christian values, including an understanding of the role of prayer and faith in the complete healing process.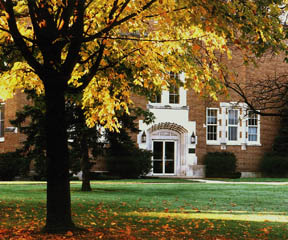 DPT Graduate Profile
Entry-level Doctor of Physical Therapy graduates have the requisite knowledge and skills to successfully pass the National Licensing Examination, be prepared for autonomous practice, and provide contemporary evidenced-based service throughout the continuum of care. They will be the practitioners of choice for patients/clients with a physical therapy diagnosis and provide culturally sensitive care distinguished by trust, respect and an appreciation for spirituality in healthcare.