DScPT - On Campus Format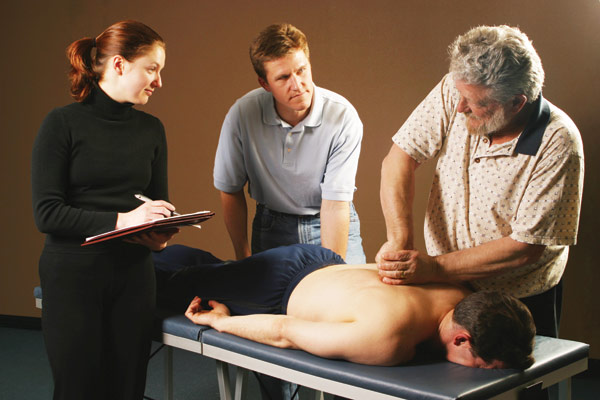 The Doctor of Science in Physical Therapy (DScPT) degree represents the highest clinical specialty doctorate in the world. It is an advanced degree for trained physical therapists that have a bachelors, masters, and/or doctorate. It is a unique degree designed to not only train the clinician to become a direct access provider and a competent researcher, but will also train the clinician to become a specialist in the area of orthopedic manual therapy.
Andrews University partners with the North American Institute of Orthopedic Manual Therapy (NAIOMT), an APTA accredited fellowship program, to provide the clinician with the skills to become a certified manipulative therapist. This degree will further enhance key areas such as medical screening, differential diagnosis, education, research, therapeutic exercise prescription, imaging and laboratory science, along with clinical leadership.
This degree truly allows the clinician to be a master clinician, a teacher and a researcher. Many of our graduates are faculty members at Universities within the United States and Canada attesting to the terminal nature of this degree. Our On Campus format is offered in a full-time format with the student eligible for the appropriate student visa to attend. The program is 3 years - 9 semesters long.
Program Composition - Main DScPT Track (Curriculum Outline)
Demonstrate competency or completion of a minimum of 64 credits of course work from the following areas:
Core I - Research Curriculum
The Research Curriculum serves as an essential outcome component to augment the professional development and new learning that occurs in the DScPT curriculum. The student takes 15 credits related to research and evidence-based practice in the DScPT curriculum. In the first year of the program, students take their research classes to prepare them to begin their dissertation project. At the end of the first year of the program they are expected to develop and propose a valid research question to study and are assigned a dissertation project chair and committee. The standards for the student to move forward with their research is an original research idea of publishable quality. Throughout the second and third year of the program, they are expected to work on their independent dissertation project under the direction of the chair. Students are required to orally defend their dissertation project prior to conferral of the degree. The finished project will be submitted for publication by the student and the chair.
Core II - Foundation Curriculum

Core III - Manual Therapy Curriculum
Program Synopsis: DScPT
1st Year:
| Semester | Credits |
| --- | --- |
| Fall | 10 |
| Spring | 9 |
| Summer | 6 |
2nd Year:
| Semester | Credits |
| --- | --- |
| Fall | 9 |
| Spring | 10 |
| Summer | 2 |
3rd Year:
Semester
Credits
Fall
9
Spring
9
Summer

None

(time used for Dissertation Project and Oral Practical Exams)
The entry point for the DScPT program is in August