---
Sonic Links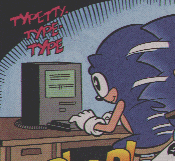 Drawing of Sonic by Ken Penders copyright (c) 1996 by Archie Comic Publications
Random access to the Sonic Fan Fiction Ring.
Where she stops, nobody knows, but it's a good start to see what's out there.
The Sonic the Hedgehog section of the Archie Comics Web site.
The Establishment speaks! The official Sonic Comic site. Gives the Editors the feeling of Staying In Touch With The Fans.
Zifei's Sonic The Hedgehog Page
New and improved! Check it out.
Tyro's Sonic The Hedgehog Info Page
One of the most comprehensive and coolest sites around. Lots of info about Sonic Underground, including plots and shots.
Ken Penders' Website
Words of wisdom from one hard-working dude. Note: not exclusively a Sonic site.
Falcon's Eye Productions [The Bookshire Draftwood Web site
When I was still a stranger to HTML, David Pistone (aka Bookshire Draftwood) put my stories up on his Sonic site. I do my own postings now, but I'll be forever grateful to Bookshire for getting me started.
The Team Artail Web site
A superb source of fan art and fan comics.
A Super Sonic Destiny
If you can't beat 'em, you just ain't trying! That appears to be the philosophy of this site, dedicated to putting together a fan-made anime Sonic movie! Check out their progress or audition for a speaking part.
---
These links are active and valid as of:
July 25, 1999
---