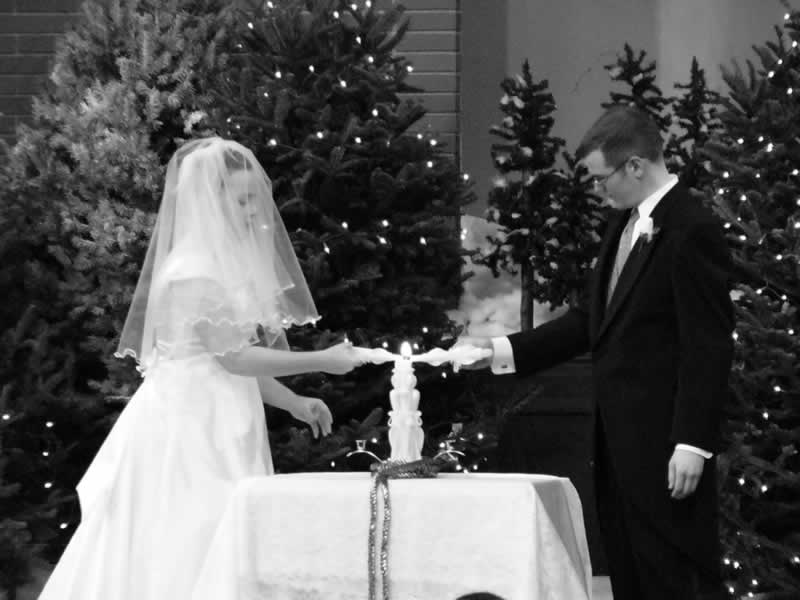 Blessings

My Aunt Rose offered to pay for our invitations and stamps. After we searched tirelessly for about a week, while we both juggled homework and tight schedules, a friend of Daniel's found a beautiful golden invitation on the internet for a low price. (Invitation Consultants.com)

My Aunt Ramona and cousin Jeanelle planned a bridal shower for me November 16, which was lovely!! Many church friends and relatives came. I received much of what we needed for our home. I was very surprised.
Meanwhile, my wedding dress and veil came together beautifully for an incredible price thanks to Dorothy Heidke, a friend of the family and seamstress in Berrien. She recommended her friend Vonya, a professional seamstress from Bulgaria, to make my bride's maids dresses. I was able to find some fabulous material for those through Dorothy from a place in Chicago for only $4.50 a yard! I bought my tiara on Ebay for $10 from Hong Kong. I also found tuxedos for $54 from Men's Warehouse. While I was on the phone with the store manager, he found a coupon and chopped the price for us. Yes! You can find nice things without paying a lot!

We chose the Cicero Church for our ceremony site (which was free since I was a member) and hoped to have the reception at Indiana Academy near by. Unfortunately, they told us we could not use the cafeteria. We were stuck. Daniel and I prayed about using the worship area in the chapel of the academy, a newer facility traditionally not permitted to be used for events that involved food, which our reception would have. Soon after we were approved to use the facility for a small refundable deposit.

Next was the hassle of choosing and arranging all the decorations. As finals approached and papers were due, I began to feel the heat. Thankfully, my Aunt Ramona works at Michael's Arts and Crafts. She gets a reasonable discount on anything she buys. She, in her generosity, purchased the majority of the decorations including the equipment for the wedding cake and flowers for the bouquets. Michael's has a full time employee who arranges flowers. I picked out the flowers I wanted and the labor was free because Aunt Romana is an employee.

About a week or so before finals the final arrangements were made for Daniel to work in Stevensville. We were given a lovely house next to the fair grounds and across the highway from Apple Valley (for those of you familiar with Berrien). We live in the main floor of a freshly painted and newly carpeted old house with 2 bedrooms, a living room, dining room as well as a medium-sized kitchen. For us this is huge!! We believe that the Lord has provided us with a place where we can have friends and new believers over frequently to make them part of our life.

Surprisingly and by God's grace, I finished the semester with very good grades. Daniel also completed his program with flying colors. During finals week I moved into the house and headed over to Troy (near Detroit) for Daniel's graduation from A.R.I.S.E. Institute. Daniel had also been having many answered prayers concerning the honeymoon, which I didn't know about yet. He wanted to take us snowboarding but neither of us had equipment. I had given my almost-new snowboard, bindings, boots, and pants away about 2 years ago to a relative who never used them. I had since tried to get them back because I found out she had a baby, but I had no success getting them. Daniel was able to secretly contact them and they gave him all of my equipment for the cost of shipping only. He then bought used pants, boots and a snowboard with bindings from a friend there in Troy.

After Daniel's graduation we headed to my house to get ready for the wedding. This was three weeks before the wedding and I was just informed that my photographer would not do the wedding. Some time before this, in answer to prayer, Daniel and I received a large money gift from a relative for the purpose of helping with the photography. We chose budget for about $500 for photos. I needed to find a new photographer who was willing to do it for that price, which is very low. I called and called and I visited several photographers. They were either too expensive or poor quality. My mom was praying about this a lot. Someone gave a name and number through my Aunt Mona at work. After all the other photographers I was so discouraged that I wasn't going to even try to call him, but my mom reminded me. He turned out to be exactly what I was looking for. He did an excellent job! Sorry, I can't put any of them on e-mail because I can't scan them. While he took the professional pictures a former teacher of ours took digital black and white photos for us to use how we want. That same week I also found a place to have boutonnieres and corsages made for about $1 each!

Daniel had also had some problems with his car. He and his dad, Steve, had decided to purchase a more reliable car for Bible work. Steve found an older ad for a nice Honda that, for some reason, had not sold yet. When he visited, the lady agreed to lower the price to a very affordable level. When we went to Daniel's house for Christmas, Daniel and his family surprised me with the extra blessing on Christmas Day. We now have a'98 Honda Civic for Bible work purposes. We used this to drive to the honeymoon where Daniel had used a friend's timeshare for a resort in Massanutten, Virginia. We stayed there for one week in a fairly large condo and had a great time!!
The ceremony was beautiful. We filled the stage with free Christmas trees and put white lights on them with fake snow underneath. It was very low-lit and elegant. I sang to Daniel at the end of the isle and we read our vows to each other, which we had written. We DID have the nice but inexpensive wedding that we had prayed for and we are so thankful for all the friends and family that shared it with us.
We are thankful for all our many blessings. This can be a pleasant lesson to each of us that when we are walking where the Lord has guided us, He will always provide.