These sites are good places to look for information about research topics and especially math.
<![if !vml]>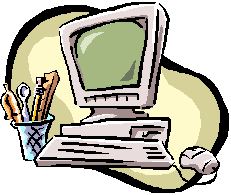 <![endif]>
Search engines
Yahoo! www.yahoo.com - Good place to start searching for information. Catagorizes sites by topic.
MSN www.msn.com - More general search engine that usually finds sites that yahoo! didn't.
CNN www.CNN.com - Good place to look for news articles.
General Reference
Dictionary www.dictionary.com - dictionary, thesaurus, translations
Encyclopedia encarta.msn.com - encyclopedia, dictionary, atlas
Math
Math Forum @ Drexel - www.mathforum.org/students/ - how to..., problem of the day, math fun
Math history @ Yahoo! - dir.yahoo.com/Science/mathematics/history/ - Links to sites about the history of mathematics
Algebra Tutorials http://www.bonita.k12.ca.us/schools/ramona/teachers/carlton/tutorials.html - Explanations, quizzes, and tutorial videos
Algebra How-to www.algebrahelp.com - Algebra how-to lessons, resources, worksheets
Order of Operations math.about.com/library/weekly/aa040502a.htm - Rules, Mnemonic to remember the rules, worksheets, and examples
Trigonometry Tutorials www.mathsdirect.co.uk/pure/purtuttri.htm - Solving trig problems, radians, sine and cosine rules, identities, formulas
Trigonometry identities www.colbycc.org/www/math/trig/identities.htm - Listing and explanation of trig identities
Geometry Proof Help http://mathforum.org/dr.math/faq/faq.proof.html - Question and Answer about geometric proofs
Geometry Tutorial and Facts www.math.com/homeworkhelp/Geometry.html - Help, Facts, Tutorials, for most areas of high school geometry
Pre-Algebra help and review www.mathgoodies.com/lessons/toc_vol7.shtm - Help with order of operations, fractions, and writing equations.
Free Math Journals on the Internet www.combinatorics.org/otherJournals/ - Links to free math journals on the Internet that you can use in research.
<![if !supportEmptyParas]> <![endif]>
<![if !supportEmptyParas]> <![endif]>