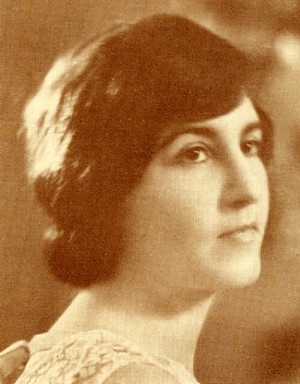 Blythe Owen was born December 26, 1898 in Long Prairie (Bruce Township), Minnesota. Attracted by the government's offer of free land, the family soon moved to the booming community of Lisbon, North Dakota. Encouraged by her musical mother, young Blythe showed an early love of music, singing and playing the family's parlor organ. Her first lessons were from a neighbor who had graduated from the New England Conservatory. Following a move to the Pacific Northwest, Blythe studied at the Pacific College Conservatory, graduating in 1917. As a teenager, she began giving piano lessons, which she continued doing until the age of 97. After spending some time studying in Portland, Oregon, with French pianist Dent Mowery, Blythe was invited to join the faculty at Walla Walla College in Southeastern Washington. It was not an easy time for her, a woman who was the same age as the students, but during those years she gained valuable teaching and performing experience.
In 1926, Blythe moved to Chicago to study and establish herself as a teacher/performer. Her Chicago debut, sponsored by the Young American Artists Series, helped launch an active performing career as soloist, accompanist, and in chamber music.
During the late 30's she began work toward an undergraduate degree in piano performance at the Chicago Musical College with Rudolf Ganz. Theory studies under Louis Gruenberg encouraged her interest in composition, an interest that grew to produce more than 150 works over the next 50+ years. With the world at war, Blythe had the opportunity to study with French pianist, Robert Casadesus, who had taken refuge in America. Following graduation in 1941, she immediately began a masters in composition at Northwestern University, Evanston, Illinois, studying with Albert Nolte, head of the composition department. Upon graduation, Blythe was invited to join the Northwestern faculty. She also continued teaching at the Cosmopolitan House Conservatory. In 1950 she left Northwestern to take positions at Roosevelt University School of Music and Chicago Teacher's College. Beginning in 1946 she embarked on the doctorate in composition program at the Eastman School of Music, studying with Howard Hanson and Bernard Rogers. She took the summer of 1949 to study with Nadia Boulanger, Jean Batalla, Casadesus, and others in Fountainebleau, France. One of the first women to do so, Owen earned her Ph.D. in composition from Eastman in 1953. Her dissertation was a piano concerto.
In 1961, following 35 years of performing, teaching, and study in the Chicago area, Dr. Owen returned to Walla Walla College as professor of piano and composer in residence. At the age of 66, when most people would be retiring, she moved to Berrien Springs, Michigan, joining the faculty of Andrews University where she taught composition, theory, and piano. Over the next 25+ years she continued her energetic career of composition, teaching, concertizing, international concert tours, adjudicating, and guest lectureships. Throughout her entire professional life, she was active in women's music clubs, music teacher's organizations, and societies promoting new music. Her compositions received many awards from these organizations and other groups. She continued teaching and composing until her late 90's. Dr. Owen's students remember her as a warm, but exacting teacher, encouraging them to aspire to do their best. In December of 1998, friends, students, and colleagues gathered to celebrate this remarkable woman's 100th birthday with a concert of her music. Having lived a full life of more than 101 years, doing what she most wanted to--make music, teach, travel, enjoy wonderful friends, Blythe Owen passed away February 28, 2000 in Berrien Springs, Michigan.