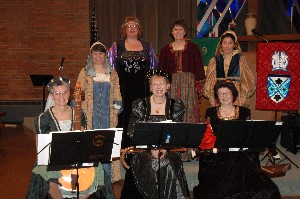 A Blast from the Past:
Pipes, Strings & Drums
Background
This costumed field trip for elementary school students is an outgrowth of organist/harpsichordist and early music afficionado Linda Mack's interest in bringing early music to young children in the Berrien County area and her experience as a performer and educator.
Under Mack's directorship, the Andrews University Early Music Ensemble had provided several programs to elementary school children in their schools, but the performances were limited to each school, and generally no appropriate keyboard instruments were available. When the Twin Cities Organ Concert Series began its concerts with a program utilizing the Baroque organ of First Presbyterian Church, Benton Harbor, along with the AU Early Music Ensemble and singers, the idea was born to adapt this program for children and invite them to the church for an artistic/educational experience.
The event in the church allows children to see, hear, and learn about instruments and music in the lives of the people who lived between ca. 1200 and 1750 and how that relates to our musical experience of today. Children are also given the opportunity to participate, to try the organ, to sing with the ensemble, and schools who wish to prepare music to perform with the ensemble have done so. The program in this format was first offered fall and spring during the 2002/3 season.
In the fall of 2003 the Howard Performing Arts Center on the campus of Andrews University, Berrien Springs, was opened. A session in that venue was added to the 2003/4 season. Although the Howard does not yet have an organ, it does house a large concert harpsichord which facilitates the program's keyboard component. This venue also offers a formal concert hall experience to students, and also to the students who perform as a part of the program. Another component that has been added to the program is that of the medieval fool/minstrel/renaissance court jester. Another advantage of holding the program in two locations is in simplifying logistics for a larger number of schools. Over 2000 students, teachers, and parents have attended "Blast from the Past" since its exception.
Upcoming Performances
Contact Linda Mack (269) 471-3114 or e-mail: mack@andrews.edu