Ellen Hwangbo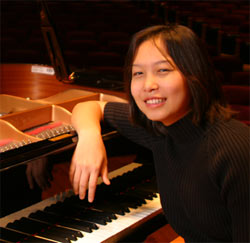 Ellen Hwangbo, sophomore piano performance major, has had the opportunity to perform across the country, spending several summers studying at a variety of prestigious music festivals. But, no matter where she goes, she's always ready to return to Andrews.
"I always want to come back here. There's so much competition in other places. It's hard to love what you're doing and worry about beating the other person. Friends here really care for you. If you're having a bad day, friends drop everything to be with you. We care about each other, encourage each other, even those working in the office and music library."
Born in Seoul, South Korea, Ellen moved to the Andrews community with her family when she was 12. Upon arriving in the States, Ellen's parents wanted her to break her three-year hiatus from all things music. Still reeling from the harsh words of former piano teachers, she had come to hate playing the piano.
At the encouragement of her parents, Ellen auditioned for Dr. Peter Cooper soon after her arrival. At the audition, Cooper asked the young Ellen if she liked playing the piano, a question answered with silence and a "look" that said louder than words that the answer was a firm, "No." Now, at the age of 20, Ellen has found true love.
"I have studied piano for 13 years, 6 1/2 with Dr. Cooper," says Ellen. "Before, I played piano but didn't love it. He taught me to love the music. No one thought I'd be a pianist. One word can change everything."
"At other schools, teachers are more concerned with their own names," Ellen explains. "Dr. Cooper sits for hours with students who can't even play a scale. He believes in all of his students. He first taught me music, and then how to be a better person."
One way the department of music builds community is through a weekly, Friday afternoon Bible study group that Cooper started for faculty and students.
"We learn how to be better Christian musicians," says Ellen. "We pray for the department and for those in need. If someone is not doing well, or is depressed, while other places may criticize or bring you down, here they pray for you and encourage you to keep trying. It was through the influence of Dr. Cooper that I was led to be baptized on my 18th birthday."
Ellen is a talented pianist and has won the Young Artist Competition in both her freshman year of high school and college. She loves to perform, and can see a future for herself traveling with other Christian musicians, such as her sister Sheryl, who plays the violin.