Sheep are People, Too
During the twenty-one years I have owned sheep, I have been impressed again and again with how apt is the biblical comparison of sheep with people. Sure, there are plenty of negative comparisons that are none too flattering for us, the rational species. People, like sheep, can be infected with a mob mentality in which the entire group wants to do what others from the group are doing, particularly if it is destructive. Sheep crowd and push each other, straining to get out of their safe pen into a field filled with tasty plants that can cause them to bloat to death when they see an agile flock-mate clear the fence to get into it. People crowd and push each other and can commit senseless acts of vandalism when their sports team wins (or loses), or they perceive that some injustice has been done.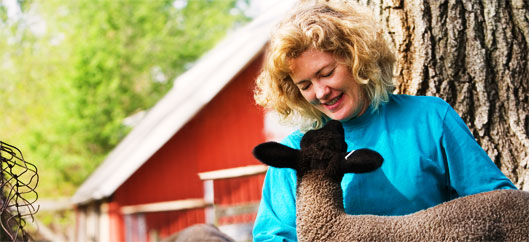 But sheep also have a softer, sweeter side. This is the side that I believe Christ would want us to emulate. Sheep want a leader and can be very trusting but will only readily follow the one whom they trust. Jesus tells us in John 10 that He is the Good Shepherd, which assures us that we can trust Him with our lives since He only wants the very best for us. (See Psalms 23 for a description of a Good Shepherd.) He also says that His sheep know His voice. If we are His sheep, do we really know His voice? When was the last time you heard it? Let us commit today to begin each new day by listening to His voice.
- Kathy Koudele
Professor of Agriculture