Greening Your Workspace
For some campus employees, saving the world is as easy as punching in and out of work. Averil Kurtz, office supervisor for the Department of Music, enjoys helping Andrews University 'go green' by means of scattering potted plants around Hamel Hall. Music students are able to breathe in fresh air with less pollution while enjoying the flowers' artistic beauty. It seems that small steps continue to take Andrews miles upon miles in an effort to become more eco-friendly. So what are you doing?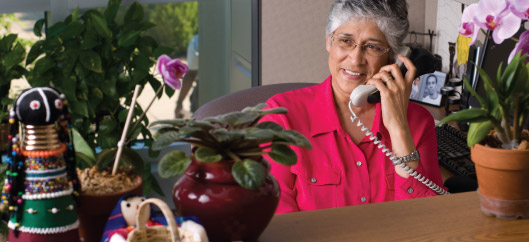 Andrews University employees are aware that every year, students rip through high amounts of notebook paper. In the workplace, however, one office worker alone can annually use a quarter ton of materials, which includes 10,000 pieces of copier paper! Fortunately, recycling can divert nearly 20–50% of trash that would otherwise be dumped into landfills, diverting major health and security problems.

The Departments of English, Biology, Social Work and Music, among many others on campus, recycle the paper that comes through their offices. Dennis Woodland, a faculty member at the Department of Biology, has even taken the initiative to set up recycle bins in nearly every hall of the Science Complex. Now, students can do their part.

"At the Department of Photography, we recycle fixers (chemicals used to print and process film) because they contain silver, which kills fish," claims Alison Guyach, photography major, referring to the toxic waste that often leaks into Michigan lakes. "We started using other chemicals such as stop bath that are also more eco-friendly."

Andrews University hopes to tell students, community members and the world the importance of preserving the earth's natural resources. According to a recent poll commissioned by staffing agency Adecco, 52 percent of employed adults agree with us, claiming that their company should do more to be environmentally friendly. Can't think of a good place to start? Look no further. We've found some easy tips to help you 'go green' at the office, the shop, or wherever you work.

FACT: Artificial lighting consumes approximately 44 percent of the electrical use of major office buildings. What can you do? Try flipping the light switch off when you leave the room for more than 15 minutes. Better yet, open up the blinds on those rare, sunny days. Whatever you do, just be bright about how much light you're utilizing.

FACT: Businesses that use computers unnecessarily waste $1 billion worth of electricity each year. A simple solution would be to turn off the computer when you leave for the day! You can also shorten energy use by 70 percent if your computer is set to go to sleep automatically during short breaks. If your office is looking to buy new equipment, invest in energy-saving computers, monitors and printers, and be sure to recycle the older technology.

FACT: It is not uncommon for the air inside a home or office to be more toxic than the air outside. This is due in part to the presence of toxic materials and substances inside of the average bottle of cleaning supplies. The next time you tackle the bathroom floors with cleaner, make sure that you're using natural products that are not petroleum-based. Keep your house/office space clean without the toxic side effects!

FACT: The Pacific Institute, a California-based think tank, found bottled water sold in industrial countries costs $500–$1,000 per cubic meter. Shockingly enough, California's high quality tap water can be had for only 50¢ per cubic meter. This continuous withdrawal of natural mineral water and spring water to make bottled products has threatened streams and groundwater aquifers in areas such as California. In addition, millions of oil-derived products are being used to make the water bottles. Before reaching for a Dasani at the gas station, determine where your durable water bottle is and try tap water or using a water purifier instead. Having 'green smarts' like this will help save money and the world.