Spotlight
Rachael Hooley was gracious enough to take time out of her busy schedule and allow me (Brenda Flores) to interview her; the following is an extract from that conversation.
Rachael what program are you in and what year are you in your program?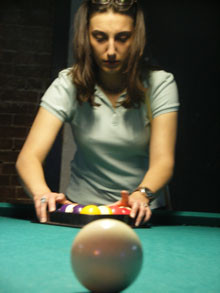 I am in the counseling psychology PhD program. I guess technically maybe I'm like a second year; I kind of float. I know that I'll be done with course work in spring of 11.
Where are you working right now?
Right now I'm working at Shepard House Counseling and Psychological Services in St. Joe, but that will probably be only for the next month or so. I'm going to make school my full time job. Things are going to be picking up here in the last two years. So I need to pull all of my resources towards getting my academic stuff done.
You had a free ride over at Indiana State University and you came back to where you were going to be in debt?
To get six figures in debt, yes (laughs).
I take it you support Andrews?
You know in many ways I do. I think that the training that I got here at the masters program had a really good foundation that really resonated with me and when I got into a program that wasn't really on beat with that, even though initially it had been kind of presented to me as though it was, when you actually get into it you realize that things aren't quite always as they seem. So I just had to come back.
What do you want to do with your degree?
Well through Shepard house I've been able to do quite a bit of it now. My big area of interest is working with children and families. I'm moving more into the marriage aspect of counseling but that, kids, and families is kind of my real forte that I really, really enjoy. Then Dr. Waite has introduced me to this neuro feedback therapy which I'm actually going to do my dissertation. It'll have something to do with neuro feedback, emotional intelligence and neuro feedback with ADHD kids and that's an area that I really have come to find out is very interesting because you get in more. You get to look at a lot more the brain's activity not necessarily on a medical level, more at a functional level, which I think is really cool.
Do you want to be in private practice?
Yes, definitely. My game plan is to stick with Shepard House; it's a really good agency. I think it's a perfect fit for me and my philosophy of counseling. So I'm very content and very comfortable there. I like it a lot.
Have you any aspiration to become a professor down the line?
Down the line, not any time in the near future. I think that after I've been in practice for a good number of years then that's something that's definitely in the back of my mind and I think I would enjoy it. I do like the teaching aspect. I'm just not very confident with it. I realize there's a lot that I need to learn before I'm in any position to start thinking about it.
What do you think will be the hardest aspect of your doctorate?
Oh boy, what isn't? I think the standard answer is the dissertation is going to be pretty challenging but I think it's also going to be fun because it's a subject area that I'm really interested in. There is just a lot a lot of writing at this point. And that's something that I'm finding I am really having to push to do because it can be very tedious. The reading has certainly increased. So that can be tedious also and you have a lot of different expectations coming from different angles that you have to learn how to balance.
So what motivates you when things get tedious?
That I know in the long run I really am picking up information that I need to know. Then when I'm actually able to go and apply it that's reinforcing for me also. So it's worth pushing through and plus you know this is a goal that I've had really since middle school. So I only have two years left of course work and then internship which I'm not sweating that too much and then the dissertation which is something everyone has to go through for the PhD. So I have to be realistic and say at this point I've worked so hard, the Lord has been good and opened so many doors, how could I possibly stop at this point? Even though it's rough you know? And there are moments when I really, really have to push but I have a husband that gets behind me and pushes me along too when I need it.
How do you balance that new aspect of your relationship and the demands of the program that you're in?
(Rachel laughs) That's a great question. That has been the question I'd say over the last couple of years. When I was away at ISU he proposed. And we were thinking about putting it off until I finished and then I just realized that this is ridiculous. You can't wait for things to be ideal. This is somebody I love that I know I want to be with. Just do it. It's going to be rough. There are going to be a lot of things to juggle. But just do it and I'm glad that I did.
So now Larry is very, very flexible with my schedule. I just pretty much come and go and do whatever I need to get done; he's really supportive of that so, that aspect of the relationship I think is outstanding but for me personally there are times when I do get frustrated because I do want to be spending more time with him, or my family or my friends, and there's just too much work to be done So it is difficult to find that balance, but I have found I'd say in the last year that I'm getting better,
On average how many hours do you get of sleep during the week?
Thankfully it's been more. I probably get about a good solid six or seven hours of sleep a night. Now when it comes close to a paper getting due or an exam or some large project there are times when I go with no sleep. That's not uncommon. But I can honestly say those are scattered pretty well throughout the semester. I might do that maybe three times, four times maximum a semester.
Would you recommend for somebody to come to Andrews for this program?
I think that Andrews counseling program has a very solid foundation in practitioner oriented training module. I think the program is working to build up the scientist aspect of that scientist practitioner model a little bit more, to be more involved in research and I think that that's probably a good thing to have. It's a PhD so certainly you need to know how to research and consume research properly. For me the reason that I love Andrews so much is that we have professors that are still actively practicing, they have those skills sharp, they have an awful lot of experience to share and for me personally that is the thing that I tend to learn from the most. I'm a very experiential learner so individuals that have been there and have surmounted a lot of the challenges that I'm facing or that I know I will face, that's been a great strength in this program.
Well thank you so much Rachael
You're welcome. I hope those were adequate answers to your questions.