AU Volunteers Return from Mississippi
Top Headlines
Date:
September 6, 2005
Contact:
pr@andrews.edu
Website:
www.andrews.edu
Phone: 269-471-3322
Disasters of the magnitude of Hurricane Katrina leave behind a wake of heartbreak and devastation, but also the opportunity to respond to a call to serve. One of the most inspiring responses to this call came from the campus of Andrews University. Within four days of the disaster, a crew of over 100 students, faculty, and staff were en route to the Gulf Region to provide disaster relief. The convoy, which included two busses, a van, and a truck full of supplies, arrived at Bass Memorial Academy, just outside Purvis, Miss., and approximately 50 miles from the Gulf Coast on Friday, September 2.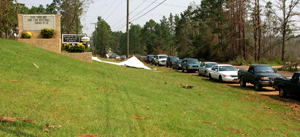 Despite the extensive media coverage devoted to the hurricane, the Andrews relief team was unprepared for the total devastation that welcomed them. Andrews VP for Student Services Frances Faehner recalls, "I assumed you'd have to get within 50 miles of New Orleans for it to be that bad. There were road signs, wires, and telephone poles just lying every which way. You could see rows of 50 trees just snapped off." Needless to say, the Andrews students had their work cut out for them. Three buildings at Bass Memorial Academy sustained major roof damage during the hurricane, and the campus was littered with debris.
Though exhausted from the 20-hour drive, students went to work as soon as their feet hit the ground, joining forces with a group of 40 students from Southern Adventist University to clear debris and remove carpet, tiles, and insulation. Despite less than ideal conditions—sleeping in a gymnasium with a gaping hole in the roof, for example—the relief force made incredible gains during its brief stay at Bass Memorial.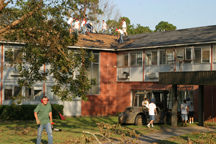 Dave Gillis, third-year architecture student and licensed roofer, headed the roofing team, which in three days managed to completely re-shingle a home in the community and three-quarters of the Bass Academy boys' dormitory. The 26-member crew worked over 10-hour days in 100 degree heat, and even set up a generator and lights to continue roofing after dark. "We knew we were leaving soon, and wanted to do as much as we could before we left," Gillis explains. "We probably saved them $12,000-$18,000 in labor alone, never mind the vulnerability of further damage from rain."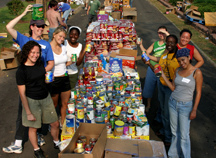 Students' efforts were not confined to the campus alone. The Andrews workers teamed up with Adventist Community Team Services (ACTS), a volunteer disaster response team from Florida in charge of food distribution centers at Bass Memorial Academy and in nearby Purvis, Miss. Workers in the two mobile kitchens served approximately 5000 meals per day to a community desperate for food. Youth ministry student Andrew Moreno found himself thrown into the role of head cook in the Bass Academy kitchen, where he spent nearly three straight days "just cooking, all day." "We were always scrounging for food, but I was amazed at how everything kept multiplying itself," Moreno recalls. "I kept saying 'we're going to run out of this,' but whenever we needed something, a semi would show up with more."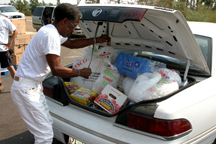 Andrews students also joined ACTS volunteers at a makeshift distribution hub on the Bass Academy campus, where cars lined up for over a mile to spend the day waiting in the heat for much-needed supplies. "People would drive through with their trunks open, and we would literally stuff them full of supplies," says Erica Slikkers, senior public relations major. "Anyone we helped was so grateful—people were crying all the time. It was a huge blend of people, not only from poverty situations, but driving new SUV's and convertibles. All of a sudden they didn't have anything—their world was turned upside down."
Hurricane victims weren't the only ones touched by the tireless efforts and self-sacrifice of the students. Glenn Russell, associate professor of religion and one of the project coordinators, states, "To me the most inspiring thing was to see students meeting real needs and the incredible job they did—their energy, their skills, and their commitment was inspiring to me as a teacher."
* Photos provided by John Hood and Bev Stout.