Fortin Named New Seminary Dean
Top Headlines
Date:
October 17, 2006
Contact:
pr@andrews.edu
Website:
Phone: 269-471-3322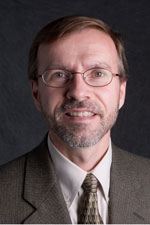 The Andrews University Board of Trustees appointed Denis Fortin the new dean of the Seventh-day Adventist Theological Seminary at their annual October meeting this past weekend, October 14-16. Fortin replaces John McVay, who left the university this summer to become president of Walla Walla College in College Place, Washington. Fortin, professor of theology and chair of the Department of Theology and Christian Philosophy, has been a member of the Seminary faculty since 1994.
Fortin is not new to the administrative duties that deanship calls for, having served as the Seminary's associate dean for four years, from 2000 until 2004. He also served as the director of the master of divinity program from 1999-2001.
A native of Quebec City, Quebec, Canada, Fortin received his bachelor's degree in pre-ministry from Canadian University College, College Heights, Alberta in 1982. He went on to receive a master of divinity degree from the Seventh-day Adventist Theological Seminary at Andrews in 1986 and a doctorate in theology from the Universite Laval, Quebec, Canada in 1995.
Before coming to Andrews, Fortin served as a pastor in Quebec. He has authored several publications on Adventist history and theology, including his 2004 Adventism in Quebec: The Dynamics of Rural Church Growth, 1830-1910. He is co-editor of the Ellen G. White Encyclopedia, a forthcoming publication by the Review and Herald Publishing Association.
"The Seventh-day Adventist Theological Seminary is one of the most dynamic and diverse seminaries in the United States and Canada," Fortin states. "With an enrollment of over 800 students hailing from dozens of nations, a well-qualified faculty and the diversity of programs offered, it is the leading seminary in our denomination. It is a privilege to serve this institution and to facilitate the theological and ministerial education of the next generation of pastors for the Adventist church."
Fortin and his wife, Kristine Knutson, coordinator of advising services in the university's Student Success Center, live in Berrien Springs, Mich. They have two daughters and a son.