Mattingly New Arts & Sciences Dean
Top Headlines
Date:
October 17, 2006
Contact:
pr@andrews.edu
Website:
Phone: 269-471-3322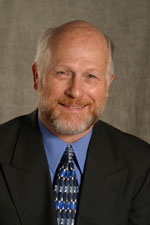 The Andrews University Board of Trustees appointed Keith Mattingly the new dean of the College of Arts and Sciences (CAS) at their annual October meeting this past weekend, October 14-16. The CAS is the university's largest school with 18 departments. Mattingly is replacing William Richardson, who retired this past summer.
Mattingly has been a member of the Andrews faculty since 1984, serving as chair of the Department of Religion and Biblical Languages since 1998.
Born in Cincinnati, Ohio, Mattingly holds three Andrews degrees: a bachelor's in business and religion (1969), a master's of divinity from the Seventh-day Adventist Theological Seminary (1972), and a PhD in biblical studies (1997).
Before coming to Andrews, Mattingly served as a pastor in Arkansas and Louisiana from 1971-1977 and in Florida from 1977-79. He also served as a chaplain in the U.S. Army Reserves for 28 years (1971-1999). Ranking as a lieutenant colonel at his retirement, he served tours of duty both in Germany and the Persian Gulf War.
Mattingly is a member of the Society of Biblical Studies, Theta Alpha Kappa, the Adventist Society of Religious Studies, and the Schools of American Oriental Research.
"I come into my position with three goals for the College of Arts and Sciences," Mattingly states. "First, to promote excellence in two areas-each academic discipline taught and being a Seventh-day Adventist; second, to be the provider/protector for faculty, staff and students; and finally, to ensure adequate physical space, with the first emphasis being a replacement for Griggs Hall." Griggs Hall, the oldest academic building on campus, is the current home to the departments of religion and international languages.
Mattingly's wife, Margarita, is chair of Andrews' physics department. They have a son, Sean, and a daughter, Claudine.