Focus Wins Silver CASE V Award
Top Headlines
Date:
December 20, 2006
Contact:
pr@andrews.edu
Website:
Phone: 269-471-3322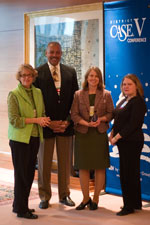 Focus, Andrews University's quarterly alumni magazine, recently received a silver Pride of CASE V award for Best Alumni/Institution Magazine, 1,001-2,999 FTE, competing against other colleges and universities in Wisconsin, Michigan, Indiana, Illinois, Minnesota and Ohio. The award was announced at the 32nd Annual CASE (Council for Advancement and Support of Education) District V conference held in Chicago, Ill. December 10-12, 2006.

Over the past two years, Focus has undergone a redesign, including a shift to full-color for the entire magazine. Ivan Davis, Focus editor since early 2002, considers the mission of Focus "to create and nurture a positive relationship between the university and its alumni constituency and friends through an informative and entertaining publication." This is accomplished through well-written feature articles, campus and alumni news coverage, and the playful Campus Cache. Celebrating Focus' 40th anniversary in winter 2005, Davis has built on a legacy of editors who have brought the magazine from a thin, black and white newsletter to its current, colorful 40+ page layout.

Focus is published out of the University Relations Office and is sent to Andrews' almost 30,000 alumni around the world. Pat Spangler, assistant director of University Relations, serves as the magazine's assistant editor, and Matt Hamel of Visionary Multimedia is the design consultant.

"It's exciting to see Focus receive this kind of recognition," noted Davis. "There are many people who work tirelessly to make the magazine a success, and it's a great honor to have those efforts recognized."