Dr. Andreasen reinstated by the Board
Top Headlines
Date:
March 30, 2006
Contact:
pr@andrews.edu
Website:
http://www.andrews.edu/news/transitions/
Phone: 269-471-3345
The Andrews University Board of Trustees met today for the third time this month. At the end of their meeting, they released the following statement:
In its March 30 meeting, the Board of Trustees of Andrews University met and took two significant actions. First, the creation of the position of University Provost was voted, which is intended to function as the Chief Operations Officer of the University, focusing on day-to-day operations and execution of strategy. Second, the Board asked Dr. Niels-Erik Andreasen to continue his service to the University as President, and he agreed.

During the meeting, the board established the parameters for a search committee to fully define the responsibilities and roles of the provost position and to identify and interview candidates to be recommended by the President to the board.

With the two actions of today, the Board believes that the revised administrative structure will assist in achieving the mission and financial goals of Andrews University and will permit the President more time to focus on the global role of Andrews University and its relationship to its external constituencies.

We believe that this revised administrative structure will be a critical contribution to the institution's success in the future.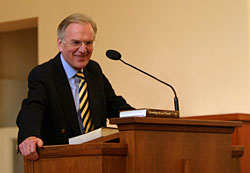 Other actions of the meeting included: approval of the 2006-2007 fiscal year budget and related employee benefits; employee appointments and transitions; the appointment of a new board committee-The President's Advisory Council for Institutional Development-- to guide the current advancement campaign of the university; as well as a review of the actions and discussions of the subcommittees of the board which met today and earlier this month.
Commenting on the day's action President Niels-Erik Andreasen said, "It's an honor to be able to continue to serve Andrews University at a time of transition and new directions. I'm pleased, in particular, to be part of a process that will help create a new Andrews for a new century - a process that will rely on the creativity, passion and strength of our teachers, staff, students and friends as we prepare to set forth towards a new and bold future."
Andrews University is the first college and University founded by the Seventh-day Adventist church. Originally established in 1874 in Battle Creek, Mich., the university has operated in Berrien Springs, Mich., since 1901. Currently, the university is enjoying its third highest enrollment in history with more than 3,000 undergraduate and graduate students. It's international student population makes Andrews the sixth most internationally diverse national university.