2006 Faculty & Staff Awards
Top Headlines
Date:
April 17, 2006
Contact:
pr@andrews.edu
Website:
Phone: 269-471-3322
On April 3, 2006, Andrews University faculty and staff were honored at the annual employee awards program at the Howard Performing Arts Center. Following, please find transcriptions of some of the tributes read for each of the recipients, as well as a list of those who have served the university for 20, 15, 10, and 5 years.

Daniel A. Augsburger Excellence in Teaching Awards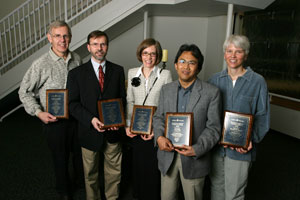 Pictured: Ronald Johnson, J. H. Denis Fortin, Monique Pittman, Jimmy Kijai and Shandelle Henson
(Not pictured: Betty Gibson).

This award is intended to recognize faculty whose teaching reflects the high standards of excellence modeled by Dr. Augsburger in his 60 years of teaching at Andrews University. Dr. Augsburger's leadership, academic rigor, breadth of knowledge, teacher-scholar role, along with care and concern for students, exemplify the best of faculty endeavors. Faculty from each school nominate and choose their individual candidates. Formerly known as the Excellence in Teaching Award, the name changed in the 2002-2003 school year.

School of Business--Betty Gibson, assistant professor of information systems
Tribute by: Annetta Gibson, dean, School of Business

Most teachers recognize that the hardest classes to teach are those classes which must be taught to all students--even those who are not majors and may not be particularly interested in the subject matter. To reach all students and help them learn the material in an effective way is challenging, and today the School of Business wishes to recognize one of our faculty who has achieved very positive student evaluations for her effective instruction in introductory courses in information systems.

It is with great pleasure that I introduce the 2006 Daniel A. Augsburger Excellence in Teaching Award recipient, Betty Gibson, Assistant Professor of Information Systems.

Ms. Gibson joined the School of Business faculty in 1999. Prior to coming to Andrews, she was Assistant Professor of Computer Science at Hong Kong Adventist College. She earned her MS in Software Engineering from Andrews University in 1989 and her BSc from the University of the West Indies in Trinidad.

Among the information systems courses that Ms. Gibson teaches are those beginning classes for which we are particularly honoring her tonight--the labs for INFS110, Computer Tools, and the lecture and lab for INFS215, Information Systems Theory and Applications. These are introductory information systems classes--classes which are required both by students across campus and by School of Business students in all business majors.

Student comments on the evaluations for these courses include expressions of appreciation for Betty's availability outside of class for questions, and the very practical nature of her instruction. Students have also commented on her patience, especially when answering class questions which have been asked several times! One student noted that at the end of the class, "I learned to do things with the computer that I had never done before!" Another student stated: "Ms. Gibson shows that she wants her students to learn" and suggested that "this teacher deserves a salary increase!"

Unfortunately, we are unable to provide Betty with the deserved salary increase. We do, however, wish to honor her and her work with this award and thank her for her contribution to the School of Business, its faculty, and its students.
Seventh-day Adventist Theological Seminary--J. H. Denis Fortin, professor of theology
Tribute by: John McVay, dean, Seventh-day Adventist Theological Seminary

It is with great pleasure that I introduce the 2006 Daniel A. Augsburger Excellence in Teaching Award recipient, Dr. J.H. Denis Fortin, professor of theology. Dr. J. H. Denis Fortin is the Seminary's standard, platinum standard, for excellence. Students appreciate, and his colleagues hope to emulate, his quest to be the best. If you need to know how to craft an excellent course outline, have a good, close look at any one of Dr. Fortin's masterpieces. Dr. Fortin is known for high expectations of students, well-crafted lectures, careful use of time in the classroom, employing varied teaching-learning strategies, and for being unvaryingly present for his posted office hours. And the list marches on.

Beyond teaching, Dr. Fortin demonstrates a high level of scholarly engagement. I note his recently published monograph Adventism in Quebec: The Dynamics of Rural Church Growth 1830-1910 (Andrews University Press, 2004) and his role as co-editor of the multi-volume and forthcoming Ellen G. White Encyclopedia. Dr. Fortin has been unstinting in his contributions to Seminary administration, having served as director of the master of divinity program and associate dean, and having just signed-on as chair-elect of the Theology and Christian Philosophy Department. His ministry to the world church is international in its scope and also local in its affect. He regularly speaks around the globe, as I speak this message he is in Australia, and serves on a number of ecclesiastical bodies including as the church's observer on the Faith and Order Commission of the National Council of Churches. On the local level, his ministry to young adults in our community, and to the children of his colleagues in the University, has been offered unselfishly, vigorously, and as if he were ministering to his own.

His colleagues appreciate deeply his personal warmth coupled with his courage to speak the clear and honest word when that is both helpful and necessary. He is a burden-bearer, one who takes up more than his share of the load and carries it with grace. The Seminary family--students, faculty, and staff--give thanks to God for the ministry in our midst, Dr. J. H. Denis Fortin, a rare mix of scholarly acumen, verve, energy, spunk, and joy.

College of Arts & Sciences--Shandelle M. Henson, associate professor of mathematics
Tribute by: Don Rhoads, chair, department of mathematics
It is with great pleasure that I introduce the 2006 Daniel A. Augsburger Excellence in Teaching Award recipient, Shandelle Marie Henson.

Dr. Henson came to Andrews University from the College of William and Mary, having completed graduate degrees at Duke and the University of Tennessee. She is a nationally recognized scholar in the field of mathematical ecology, with more than 40 published papers, and over 55 invited research presentations, the most recent one being just last week at the University of Chicago.

She is known for recognizing the gifts of women and minority students in her classes, and for encouraging them to develop their talents to the maximum. Her student research group includes 10 undergraduates who participate with her in building mathematical models for animal behavior. As a result of her work, Andrews University provides world-class opportunities for undergraduate students to work closely with a scholar of national repute in the field of mathematical biology.

For the clarity of her classroom teaching, for involving students in research, for her passionate Christian witness and fearless pursuit of truth, for bringing honor to her university, and for being that intensely singular person we know as Shandelle Henson, we honor her with the Daniel A. Augsburger Excellence in Teaching Award.

College of Arts & Sciences - L. Monique Pittman, assistant professor of English
Tribute by: Stella Greig, chair, English Department

If you've ever walked past or into the English department and heard a "woo, woo" coming from office 109, you know that not all Renaissance scholars are staid, grey-haired professors.

It is with great pleasure that I introduce the 2006 Daniel A. Augsburger excellence in teaching award recipient L. Monique Pittman, assistant professor of English.

Whether she's accompanying her students to a live production of a Shakespeare play at Navy Pier in Chicago, introducing freshmen English majors to her cherished discipline, or feeding a group of students at her and Paul's Kantorberry Trails home, Monique's enthusiasm for, expertise in, and engagement with people and her discipline are very evident.

One of the hallmarks of her courses is the array of information presented in various media forms--film, drama, music and Power Point. Another hallmark is her original research that she brings to her classes, as well as the scholarly research her students produce and present at local and national conferences. And most important, added to her feeding of the mind and body of each student is Monique's nurturance of the spiritual and ethical components.

It's not so much congratulations that I give you tonight, Monique, but a thank-you for your exemplary contributions to the lives of your students and the life of christian education at Andrews University.


Excellence in Service Awards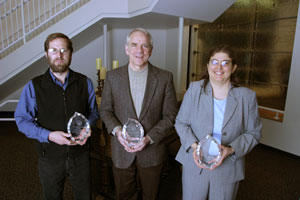 Pictured (l-r): Martin Bradfield, William Richardson, Lorena Bidwell

Recipients of this award are hourly or salaried full- or part-time staff who have served for at least three consecutive years, and have not previously received the award. The award is given "in recognition of outstanding service to the university, the church, and the community, and for demonstrating, by precept and example, a Christ-centered life."

Academic Administration - Bill Richardson, dean, College of Arts & Sciences
Tribute by: Don May, assistant dean, College of Arts & Sciences
It is indeed a privilege to participate in honoring Bill Richardson, dean of the College of Arts and Sciences, with an Andrews University Excellence in Service Award. While serving with a pastor's heart -he has dedicated 29 years to Andrews University as religion professor, department chair, and academic dean.
He has truly offered excellence in service to his students, to his discipline, and to his faculty and staff. It speaks volumes that Bill is so appreciated and admired by campus colleagues as to be nominated for this honor.
I can't think of a more deserving man. It has been a privilege to serve together in the dean's office for the last six years. It is a privileged vantage point from which to learn about his wisdom, his integrity and his compassion first hand.
Most Fridays, Bill sends an e-mail to the Arts & Sciences faculty. Those messages reveal to us words of assurance and encouragement and provide insight into the soul of a Christian leader.

Bill also represents the best of Andrews as a sought after speaker for campmeetings, week of prayer series, and in local Adventist churches. He is also valued in the broader Christian community for his wisdom on ethics.
In addition to his excellent contribution to Adventist education at Andrews, Bill exhibits balance in his life by remaining physically fit, compassionately caring for aging parents, is a devoted husband, and father to his grown children - and his seven grandchildren are the apple of his eye.
We thank God for your dedication and passion to Andrews, your family and your faith, Bill. It is a benchmark of balance for us- your friends and colleagues, to continue after you retire, and, ultimately, we pray that God will find us faithful.

President's Office--Lorena Bidwell, chief information officer
Tribute by: Niels-Erik Andreasen

"It is with great pleasure that I introduce Staff Excellence Award recipient Lorena Bidwell, chief information officer."

Lorena has been part of the Andrews University family for more than 20 years, working in a variety of positions, including supervisor of academic services, instructor, assistant professor and currently as the university's chief information officer. She has been involved with the computer networking of this campus from the ground up, literally.

Students, colleagues and fellow administrators alike concur on the wise leadership Lorena provides in her own administrative areas as well as the campus at large.

Stephen Payne, vice president for enrollment management, says, "One of the things that always amazes--and pleases--me about working with Lorena is to see how thoughtful and innovative she is about both the culture and the specific issues connected with running a successful Information Technology program. What makes her an even more powerful and valued colleague is the same curiosity, thoughtfulness and attention to detail that she brings to any issue on the table. And, as a bonus, she is consistently interested in the human element of the decisions we make and the lives we lead on this campus."

Tim Trine, director of client services, shares his admiration: "I have worked with Lorena for the past 10 years in first the Computing Center and now ITS. During this time I have observed that she is completely dedicated to the cause of Christian education in general and to Andrews University in particular. She strives hard to uphold the goals and values of the university and church. Computer technology is always changing and she is approachable and open on discussing potential changes necessary for campus. She cares and values very highly those who work for her. She is a great person to work for."

Brad Christiansen, director of administrative systems, was happy to include his congratulations with these comments: "I am pleased that Lorena is the recipient of the Excellence in Service award this year. She is a person who exemplifies the spirit of the award in that she always is willing to listen to other's concerns and consistently attempts to build a consensus among those in her organization. It is a pleasure to work with one who has genuine concern for all those that we serve on campus."

Financial Administration--Martin Bradfield, director, transporation and custodial services
Tribute by: Richard Scott

Committed, reliable, available, involved, family connected, church committed, experience spanning the globe, and overworked! Sounds like the qualifications of an employee of Andrews University. It does indeed describe some of the characteristics and attributes of our employee of the year candidate.

Coming to our campus in 1999 from the East Congo Union, our candidate was hired to manage the custodial department. Replacing his brother, who was in that position, our candidate continued to build on, and refine the operational procedures of that department. He was soon recognized as a person who had a strong work ethic, a willingness to work as a team player, and was far more reliable than the Michigan weather to which he now subjected his family. Known for his practical sense and skills, he soon became a valuable resource, for friends and colleagues alike. His willingness to accommodate and to do so in a cheerful manner has endeared himself to the campus community. Unwittingly he has committed himself to the support of the local Evergreen Pathfinder Club, as his wife is the ever so competent director. On Sabbath, depending on the weather, you'll find our candidate either plowing snow or involved with the highly complex traffic control program at the church.

In 2002, as part of University downsizing, and the vacancy of the manager of transportation position, he was asked if he would be willing to add to his responsibilities, and manage both departments. I'm not sure if there was hesitation on his part, but he agreed, and the rest is history. With new responsibilities, came more time away from home, and campus. Coordinating his teams, driving bus, and heavy equipment, has added much more responsibility to his already demanding schedule. Respected and appreciated by friends and colleagues, who have voted him an Andrews University Employee of the Year, I congratulate Martin Bradfield.
Staff Excellence in Service Awards Runners-up
Robert Benjamin
Lori Guerrero
Ildiko Gyeresi
Gregory Offenback
John McVay
Linda Reece

Spiritual Life Award
Awarded to any employee, faculty or staff, who has made a significant contribution to the spiritual life of campus. Names are considered and voted by the Spiritual Life Committee. Instituted in 2005.


Adrienne Townsend, assistant dean of women,
Lamson Hall
Tribute by: Jennifer Burrill, dean of women
Having worked closely with her for four years, I can't imagine anyone more deserving of the Spiritual Life Award than Adrienne Townsend, assistant dean of women in Lamson Hall. She is a woman of prayer and can frequently be found in prayer with an individual or a group of students - from a quiet office prayer to a group gathered in the hallway. Adrienne gives sacrificially of her precious personal time to increase her outreach and ministry, inviting our residents to her home or taking them to lunch to share encouragement. A card and fresh flower found in a Lamson Hall room is likely to be from her. She faithfully listens to the needs of Lamson women and calls them to be more of who they can be in Christ, through personal conversations and residence hall wide programs. Although there are already many who show their love and appreciation for Adrienne's spiritual mentorship, the impact she has with our residents is not going to be fully realized until she gets to heaven. Congratulations, Adrienne, on this well-deserved recognition for your spiritual influence in the lives of our students.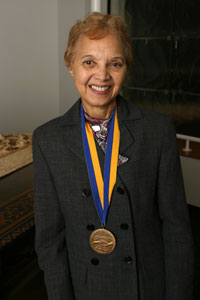 President's Medallion:
The Andrews University President's Medallion was designed to recognize individuals who have distinguished themselves in causes that the university views as congruent with its own idealism, mission, and Christian outreach. The recognition is made for leadership, compassion and service, as well as for championship or philanthropic support of great causes. The medallion includes the inscription, "Live today to touch tomorrow."

This year's recipient, Marguerite Dixon, was honored by President Niels-Erik Andreasen for her tireless commitment and service to the university as a long-time member of the Board of Trustees.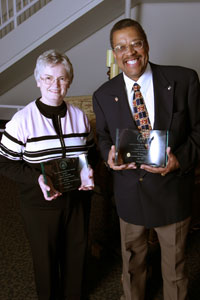 30 year Service Awards:
Pictured (l-r): Lois Forrester & Joseph Warren
(Not pictured: George Knight)

Joseph W. Warren, Sr., professor of English
Tribute by: Dan Agnetta, director of human resources

Dr. Joseph W. Warren, Sr. joined the English faculty of Andrews University in 1976. Throughout the last 30 years he has remained active both in and out of the classroom. In addition to his teaching responsibilities in the English Department, Warren has served as Family Life Director at the Highland Institute in Benton Harbor, Michigan. Warren is frequently invited to speak on issues of family life, multiculturalism, and conflict resolution.

Warren teaches a variety of courses including American Literature, Cultural Literature, Technical Writing, and African American Literature. He also sponsors the English honors society, Nu Sigma. Nu Sigma president, Bonnie McClean, says, "He has been a supportive sponsor and his receptiveness to creative ideas makes him an ideal mentor."

Around the department, Warren is known for his sense of humor as well as his concern for his students. Andrews University wishes to express its deep appreciation to Dr. Warren for 30 years of faithful service.

Lois Forrester, assistant registrar
Tribute by: Dan Agnetta, director of human resources

It is with great pleasure that I introduce 30-year service honoree, Lois Forrester, assistant registrar.
Lois has held a number of staff positions since she started in 1963 as a job printer. Her colleagues consistently note her diligent and faithful service. It's hard for any of us to imagine a graduation service without Lois facilitating a smooth processional and distribution of diplomas.
Current Registrar Emilio Garcia-Markenko, honors Lois with his comments: "Lois is a unique asset for this university. By far, she surpasses expectations in the areas of productivity, attention to detail, faithfulness, consistent work and much more. Her loyalty to the team she works with and to the university is outstanding. I personally feel highly privileged to have her as one of my close associates in the office of Academic Records."
Gary Williams, associate registrar, comments on Lois' contribution as follows, "She oversaw the software conversion to Banner and the change of academic calendar from the quarter to semester system. These were two very difficult tasks, but she handled the processes with quiet determination and professionalism every step of the way. It was been my privilege to work with Lois since 1986."
"I have worked with Lois Forrester for the last 16 years, and I can honestly say I have never met a more loyal employee or someone with a better work ethic," says office colleague Joan DeWitt.
Andrews University wishes to express its deep appreciation to Lois Forrester for 30 years of faithful service.

George R. Knight, professor of church history
Tribute by: Dan Agnetta, director of human resources

Dr. George R. Knight is a professor of church history at Andrews University and an alum of the master's of divinity program. Knight has served the university since 1976. He has worn many hats during his tenure including director of the Andrews University Press, editor of Andrews University Seminary Studies, and professor of educational foundations.

As a professor of church history, Knight acted as the dissertation advisor for the current chair of the church history department, Dr. Jerry Moon. Moon says, "Dr. Knight is a great teacher, a riveting lecturer, a rigorous but absolutely fair dissertation advisor, a scholar whose publication productivity outstripped the rest of the department combined, and a wonderful colleague who is generous with his mentoring time and expertise."

Knight has proven himself a prolific writer as he is author and editor of over thirty books, including From 1888 to Apostasy, Myths in Adventism and Millennial Fever and the End of the World. He is also the general editor of the Bible Amplifier commentary series and a member of many prestigious religious societies.

According to Moon, "Dr. Knight's distinguished career has changed the face of Adventist studies. His students hold influential positions all over the world. Here at Andrews his retirement leaves an irreplaceable void. We are grateful that he will still be teaching part-time, and we hope that will continue for many more years."

Thank you, Dr. Knight, for your faithful service to Andrews University and the world it serves for the past 30 years.


Years of Service to Andrews University

20 Years


Pictured (l-r): Christine K. Robbins
Christine L. Carlson, Gaylord F. Hanson, Loretta L. Nave, David A. Steen, Irene O. Touchard

(Not pictured: Duane C. McBride, Paul David Merling, Nancy L. Miller. Randall W. Younker)




15 years
Ruth F. Abbott
H. Dean Boward
Phuichun R. Choi
James B. Ford
Shirley A. Freed
Ronald D. Johnson
Jimmy Kijai
Lauren R. Matacio
D. David Nowack
Linda Vivien Oxley
Kevin P. Penrod
Avani D. Pinheiro
Kelli C. Schmeling
Wanda L. Sheppler
Dianne L. Staples
O. Jane Thayer
Carla L. Trynchuk
Larry S. Ulery
Alice C. Williams
Robert E. Zdor
Stephen Zork
10 years
Yelizaveta Arutyunyan
Stanley H. Beikmann
Sari H. Butler
Lael O. Caesar
Lena G. Caesar
Rodrick A. Church
Bryan T. Clayton
Kurt Frey
Randy K. Graves
Josip M. Horonic
Frances E. Johnson
Kristine M. Knutson
Kenneth D. Logan
Thomas B. Lowing
Lionel Matthews
Mark A. Moreno
Pedro A. Navia
Rhonda J. Peak
Shelly J. Perry
John W. Reeve
Rene S. Rios
David B. Sherwin
Erling B. Snorrason
Karen E. Stockton-Chilson
Joyce H. Sturm
Reginald T. Swensen
Charles H. Tidwell
Timothy P. Trine
5 years
George S. Agoki
Esther M. Aust
L. Arlene Bailey
Rudolph D. Bailey
Sylvie Baumgartner
Jeanette W. Bryson
Maryann W. Burns
Jennifer R. Burrill
Christopher A. Campbell
Allan A. Chase
Roberta D. Colwell
Sally A. DiCicco
Gabriela A. Dumitrescu
Duane E. Habenicht
Enid C. Harris
Jon M. Harris
Shandelle M. Henson
Douglas L. Janssen
David N. Mbungu
Marlene N. Murray
Nadine A. Nelson
Lawrence W. Onsager
Violeta Paraschuk
Stephen D. Payne
Andrew A. Pfeifer
Sheila G. Prillwitz
Rita J. Pusey
June A. Scott
Rita M. Seay
Nadine Shillingford
Dina M. Simmons
Rodrick D. Snow
Delyse E. Steyn
David A. Van Denburgh
Willyta R. Wamack
Kathleen Z. Wolfer