De Oliveira to be New Missions Chaplain
Top Headlines
Date:
July 17, 2006
Contact:
pr@andrews.edu
Website:
Phone: 269-471-3322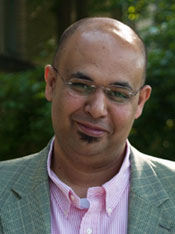 Pastor Japhet De Oliveira will be one of the new faces on the Andrews University campus this fall. De Oliveira will serve in the position of chaplain for missions as well as assistant director for the Center for Youth Evangelism.
De Oliveira comes to Andrews from England where he has served as Youth Director for the South England Conference of Seventh-day Adventists since 2003. He is an energetic and innovative leader with a passion for young people. During his time as youth director and as a youth pastor for the Stanborough Park Church in Watford, England, De Oliveira began multiple youth ministry initiatives. Just a sampling of his work includes projects such as London Live, a new 20/30-something church led by young adults in the city of London; HUB, a monthly journal for youth ministry leaders across England; and the new Diploma in Youth Leadership program at Newbold College in Binfield, England.
De Oliveira earned his BA in theology and an MA in Religion with a certificate in church growth from Andrews University on the Newbold College campus.
"If I can be part of a team that makes a difference to both those connected with and searching for God, I will be a satisfied man," says De Oliveira about his new role at Andrews. "At the end of the day when I look back on my life, I want to know that I served well, played hard, that my boys and wife are proud of me and that God inspired my leadership. Honestly, what more is there?"
De Oliveira will join the Andrews community with his wife of eleven years, Becky, and their two young boys.