Three AU Professors Author Two Books
Top Headlines
Date:
August 29, 2006
Contact:
pr@andrews.edu
Website:
Phone: 269-471-3322
Three Andrews University behavioral science professors have their names on the covers of two new books published this summer by Andrews University Press.

Herbert W. Helm, Jr., professor of psychology, and Duane C. McBride, research professor of sociology, have edited a new college textbook on social issues. Lionel Matthews, associate professor of sociology, has authored a philosophical look at his discipline for the Faith and Learning series sponsored by the university's Center for College Faith.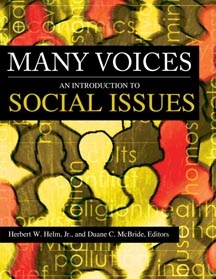 Helm and McBride coordinated the work of 40 contributors from 15 colleges, universities and other institutions to produce Many Voices: An Introduction to Social Issues. The 538-page book is intended as a second-year introductory text for behavioral science students studying the major aspects of human culture that contribute to, or seek to address, identified "social problems." The book's twenty chapters cover such topics as education, sexuality, violence, public health and health care, race, feminism, immigration, mental health and religion.

According to Helm, Many Voices is entering a highly competitive market of social issues texts, but some of its unique features should help to quickly establish its own following among teachers. The most important feature is the cross-disciplinary character of the content. Helm and McBride deliberately sought authors for the various chapters from different specialties within the social sciences. Following the main content of each chapter, the text includes at least one response or critique from a specialist in another area.

A second key feature of the book, according to Helm, is the book's emphasis on the interplay between religion and social issues. Helm says that many other texts give less emphasis to the role of religion, not only as a social issue, but particularly in showing how it shapes societal attitudes toward all the other issues. Helm expects that this feature will make the textbook attractive to teachers in church-related institutions.


Henry Allen, professor of sociology at Wheaton College, says Helm and McBride have achieved their goal. "Faith matters, in church and society, across all the social sciences," Allen wrote in a recommendation for Many Voices. "Few have demonstrated this reality for students, educators and policymakers as well as the authors of this fascinating, interdisciplinary textbook. Our students need to explore complex social problems tangibly from a variety of perspectives, including religion, before they can make informed policy decisions about those problems. I recommend this text as the most cogent starting point."
Lionel Matthews' book, Sociology: A Seventh-day Adventist Approach for Teachers and Students, examines key issues such as why Christians should study sociology, the apparent conflicts between Christianity and sociology, how sociology can facilitate faith integration, and how the church should relate to the challenge of postmodernism.

Matthews also offers an evaluation of Seventh-day Adventist fundamental beliefs to show how a sociological perspective can deepen their meaning and relevance in the worldview of the believer. Matthews' book is the third in a series sponsored by the university's Center for College Faith and the education department of the General Conference of Seventh-day Adventists. Previous volumes addressing the study of history and literature have been authored by Andrews professors Gary Land and Delmer Davis.

Students in the relevant classes at Andrews are already using Matthews' book and Many Voices this fall. The Many Voices text has been released temporarily in a one-color, photo-reproduction draft printing. The final offset printing, in two-color format, will be released in November.

Both books have been published by Andrews University Press, the university's academic publishing house that serves the Seventh-day Adventist Church world-wide.