MLK Weekend Recap
Top Headlines
Date:
January 17, 2007
Contact:
pr@andrews.edu
Website:
Phone: 269-471-3322
The weekend of January 13-15, Andrews University celebrated its sixth annual Martin Luther King, Jr. Legacy of Freedom Celebration Weekend.
The weekend's events kicked off with an oration of King's sermon "A Knock at Midnight," given by Kurtley Knight, at the New Life Seventh-day Adventist Church on Saturday, January 13, held in the Seminary Chapel.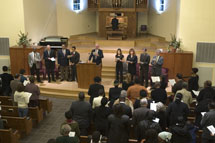 Activities continued on Monday, January 15, King's birthday itself with a special convocation in the Seminary Chapel at 10:30 am. Nearly 200 people gathered for the convocation hosted by University President Niels-Erik Andreasen and Provost Heather Knight.
Keynote speakers for the event were two Andrews University students, Anna Park and Guillermo Magana. Magana, a senior political science and communication major and president of the Andrews University Student Association, spoke on "Building the Beloved Community through Student Leadership." Park, a sophomore English major and editor of Andrews' annual,
The Cardinal
, spoke on "Building the Beloved Community through Learning." Park's presentation called for action beyond the rhetorical, to become the change we desire for our community.
Joseph Warren, chair of the MLK weekend planning committee, noted that the featured keynote speakers reflected the committee's desire for "rotational diversity" in presenters and events--Magana is from a Hispanic background and Park is of Asian descent.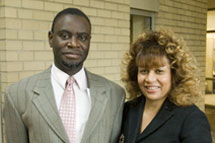 At the same event, Israel Kafeero, a doctoral student in religious education, was awarded a cash prize as winner of the first-annual research poster contest. His topic was "Triple Quandry, Racial Socialization, and the Dream: A Critical Ethnographic Study on Parenting among Families in Benton Harbor City."
The convocation also featured the presentations of the second annual Freedom Awards to community members whose efforts actively further the cause of freedom. Recipients were:
Edward Wood III, director of communications at the Michigan Department of Management and Budget, grew up in the Andrews community, and has been recognized for his leadership by United Way, Goodwill Industries, the City of Benton Harbor and multiple state agencies that help in development for under-resourced communities.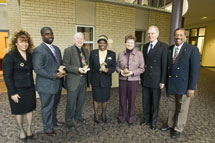 Sherry Collins, a 1968 graduate of Andrews University and retired educator, was recognized for her dynamic, innovative and successful work in the challenging urban schools in Benton Harbor, including the Gifted/Talented Magnet Academy. She also continued her work as an educator after retirement by teaching at Grand Valley State University.
C. Willard "Knobby" Mauro, a 1948 graduate of Andrews University and a WWII veteran, was honored for his uncompromising dedication to service, his history of responsibility and work in the community. A retired high school principal, he integrated his work as an educator with his volunteer service to his community through the Optimists Club, finding resources for recreational facilities for the community, personal financial assistance to students, as well as opening his home to provide room and board to international students studying at Andrews.
Patricia B. Mutch was honored for her professional contribution to research on substance abuse and for her commitment to personal and institutional growth on issues of equality among the faculty and staff of Andrews University. Her persistent refusal to submit to fears associated with expansive diversity, inclusion and multiculturalism have helped poise Andrews University for its current standing as the 14th most diverse university in the nation.
Activities continued into the afternoon with three different workshops on current immigration issues.
The 2 p.m. workshop, "The Lost Boys of Sudan," featured panel members Jeanette Bryson, director of the Center for Intensive English Programs, George Agoki, associate professor of engineering, and Angelo Achuil, senior religion major. Scott Moncrieff, professor of English, moderated the discussion. A short segment of the documentary "The Lost Boys of Sudan" was shown, highlighting the arrival of two young refugees from Sudan and their initial resettlement in Houston. From 2000-2002, 87 girls and 3000 boys emigrated to the U.S. from Sudan.
Bryson, who lived in Africa for many years, emphasized the importance of taking the time to truly get to know immigrants, going beyond the basics of introducing them to shopping at a supermarket or riding public transportation. Agoki, a native of Kenya, provided a historical perspective, acknowledging the problems caused by British colonialism and the decisions made at the Berlin Conference when country boundaries within Africa were formed arbitrarily. Angelo Achuil was forced to leave his village in 1987 after soldiers burned his home to the ground, walking 700 miles to Ethiopia with 130,000 other children, mostly boys, to escape the war.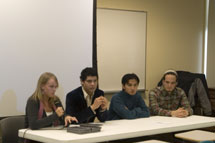 At 3 pm, attendees had the opportunity to view "Fuerza: A Documentary on the Realities of Immigration in Two Small Cities," a film produced by a team of students from Goshen College in Indiana. Fuerza looks at immigration issues affecting the two sister cities of Elkhart, Ind. and Apan, Mexico. Apan has served as a "feeder" city for Elkhart, with many of its citizens immigrating to Elkhart for work. This has brought about changes in both cities, which have caused their citizens to make some difficult adjustments. Facilitated by Andrews English professor Joseph Warren, four of the student filmmakers were present to answer questions - Katrina Dyck, David Martinez, Eduardo Vargas and Benito Miller.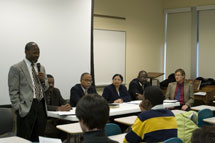 The discussion of immigration issues continued on into the 4 pm workshop, which looked at "The Theological Implications of Immigration." The panel included: Donald L. Bedney, II, a lawyer, pastor and director of stewardship for the Lake Region Conference of Seventh-day Adventists; Lloyd Caesar, a graduate student at Western Michigan University and an intern with the Michigan state legislature; Roy Gane, professor of Hebrew Bible and Ancient Near Eastern Languages at Andrews; Arifa Javed, a professor of sociology at Wayne State University, specializing in social transformation and minorities; and Trevor O'Reggio, director of Andrews' MA in religion program and professor of church history. The conversation included a look at immigration issues from an ethical and biblical standpoint, raising many interesting questions, including how pastors should respond when illegal immigrant parishioners need assistance that may require law-breaking.