Students Apply Learning in Real-World
Top Headlines
Date:
October 29, 2007
Contact:
architecture@andrews.edu
Website:
Phone: 269-471-6003
From Sept. 17–25, a team of fifth-year architecture students from the School of Architecture's Urban Design Studio was able to apply skills learned in the classroom to a practical, real-world situation. Led by associate professor Andrew von Maur, the team spent eight days working with citizens of Michigan City, Ind., to create a community development plan.
Designs were conceived within the context of the architectural school of New Urbanism, which promotes landscape preservation, walkable neighborhoods, stable communities, public life, and the "celebration of local heritage as an alternative to suburban sprawl and the excesses of the industrial city."
Each night, the students presented and discussed ideas with community members in a town hall meeting. "We brought in anybody who had a stake in the downtown," says von Maur, "because in the end, the proposal is not going to be useful unless it makes sense to the people who live there." After the meetings, the students worked to incorporate the feedback and suggestions into drawings to present the next evening.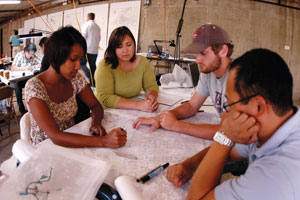 One proposal was for a footbridge that would span over railroad tracks to connect a low-income neighborhood with the coast of Lake Michigan. Not only would this new waterfront access have a positive psychological impact on the residents of the neighborhood, von Maur said, but it would also improve their economic situation by raising the property value.
The project in Michigan City follows an important tradition in the Andrews School of Architecture of giving students opportunities to make positive contributions in the community. Last year, von Maur worked with a team of students on a similar development project in Saucier, Miss. The "Saucier Town Plan" earned them a Charter Award from The Congress for the New Urbanism (CNU). The county adopted the plan and zoning ordinance in May of this year, making it a legal tool.
And if the Michigan City plans are similarly adopted, how long will it take to implement them? "Building a community takes generations," von Maur says. "There has never been a plan I know of that has been fully implemented according to the original drawing." Rather than provide a stringent architectural checklist for the citizens of Michigan City, von Maur hopes the plans will be enough to give the project direction, "creating a sense of vision that is specific enough to help guide all the small decisions in between."