World-Renowned Conductor Visits Andrews
Top Headlines
Date:
October 19, 2007
Contact:
rmay@andrews.edu
Website:
Phone: 269-471-3322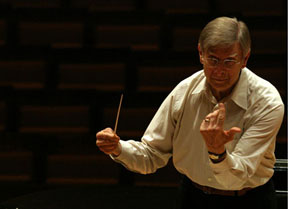 Herbert Blomstedt, world-renowned conductor, will visit the campus of Andrews University for the weekend of November 1-4, 2007. Currently, Maestro Blomstedt is conductor laureate of the San Francisco Symphony. He has been awarded the title of honorary conductor for the NHK Symphony, the Gewandhaus Orchestra in Leipzig, the Danish and Swedish Radio Symphonies, and the Bamberg Symphony Orchestra. The following events are free of charge and open to the public.

In preparation for Maestro Blomstedt's visit to Andrews University, Claudio Gonzalez, assistant professor of music and conductor of the University Orchestra and Sinfonietta, will profile Herbert Blomstedt in a lecture entitled "Who is Herbert Blomstedt?" Music librarian Linda Mack will join Gonzalez for a conversation about the weekend's concert. This presentation will take place in the Whirlpool Room of Chan Shun Hall from 5-6 pm on Wednesday, Oct. 31.

On Friday, Nov. 2, at 7 pm in the Howard Performing Arts Center, Herbert Blomstedt will give a presentation discussing "Music and Spirituality." On Saturday, Nov. 3, from 3:30-5 pm in the Seminary Chapel, he will speak regarding "Hymnology and Worship."

A Birthday Tribute Concert by the Andrews University Symphony Orchestra on Saturday, Nov. 3, at 8 pm in the Howard Performing Arts Center, will conclude the weekend. The orchestra will perform Jubilee by Georges W. Chadwick, Concerto No. 2 for piano and orchestra with piano soloist Teona Martiashvili debuting as faculty performer, and Symphony No. 5 "Reformation" by Felix Mendelssohn.

Maestro Blomstedt, who celebrated his 80th birthday in June, will be in attendance, and will meet with the general public at a reception following the concert.

Gonzalez says, "It is a great privilege and a welcome challenge to conduct a tribute to Maestro Blomstedt. We are playing a concert for one of the great conductors of the world."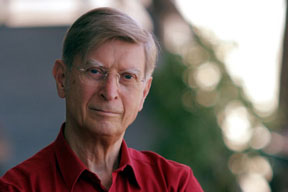 Herbert Blomstedt is a Seventh-day Adventist Christian who, throughout his career, has thoughtfully combined his faith and professionalism. Carlos Flores, chair of the music department and professor of music, remarks, "Maestro Blomstedt is a Christian musician held in high regard by musicians across the world, not only for his conducting career but for his spiritual ideals, as well. He has successfully upheld Christian principles while achieving extraordinary professional success." Andrews University awarded him an honorary doctorate of music in 1978.

Blomstedt began his musical studies at the Royal Academy of Music in Stockholm and at the University of Uppsala. Later he studied conducting at the Juilliard School in New York, contemporary music in Darmstadt, and renaissance and baroque music at the Schola Cantorum and Basiliensis in Basel.

In 1954, Blomstedt made his debut as conductor with the Stockholm Philharmonic Orchestra. He has since held the position of chief conductor of the Oslo Philharmonic, the Swedish and Danish Radio Orchestras, and the Dresden Staatskapelle, with which he toured over twenty countries in Europe, in addition to the United States and Japan.
Maestro Blomstedt has also served as music director for the San Francisco Symphony, the NDR Symphony Orchestra in Hamburg, and the Gewandhaus Orchestra in Leipzig.
He has guest conducted for orchestras such as the Berlin and Munich Philharmonics, the Royal Concertgebouw Orchestra of Amsterdam, the Boston Symphony, Chicago Symphony, Cleveland Symphony, New York Philharmonic, Philadelphia Orchestra, Israel Philharmonic and the NHK Symphony.