Cleveland donates priceless collection
Top Headlines
Date:
November 29, 2007
Contact:
pr@andrews.edu
Website:
Phone: 269-471-3322
On November 8, 2007, the Center for Adventist Research at Andrews University received a priceless collection of original materials from Adventist pioneer evangelist, Elder E.E. Cleveland. Cleveland and his family personally came to campus to present his personal papers to the Center at a luncheon in his honor. Nearly 100 faculty and friends of Andrews attended the luncheon, hosted by Provost Heather Knight, to express their appreciation. Merlin Burt, director of the Center, was on hand to accept the formal deed of the gift. That evening, Cleveland inspired a capacity crowd with his preaching in the Seminary Chapel.
The collection contains nearly 2000 sermon manuscripts, hundreds of pictures, personal books, audio-visual materials, and other records of his ministry, as well as his wedding Bible signed by Elder Cleveland's father, with an inscription on how the couple met, got engaged, and married in 1943.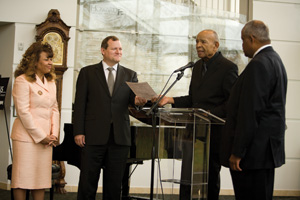 At the luncheon the dean and associate dean of the SDA Theological Seminary described the collection and expressed appreciation to Cleveland for making this material available to future generations of evangelists. Clifford Jones, associate dean, expressed his appreciation in the following words: "Elder Cleveland did not just redefine public evangelism. He did not just rewrite the book on public evangelism, for there was none to rewrite when he came along. Cleveland wrote the book on evangelism, doing so with skill and aplomb, and the thousands of pages of his personal papers which he is turning over to the Center for Adventist Research is a treasure trove beckoning to be plumbed by some astute doctoral students."
According to Steven Norman, communication director for the Southern Union of Seventh-day Adventists who helped facilitate this donation, when Cleveland lost his wife of 60 years in 2003, he faced his own mortality and was determined to prepare a ministry continuity plan. This plan was to give his ministry the ability to speak a message of hope even after his death and instill ministers with a passion for evangelism. A fundamental part of that plan was to preserve his records.

Cleveland chose to use the Center for Adventist Research at Andrews University, because it was under the auspices of the General Conference and this university that he became the first African-American Seventh-day Adventist minister to teach pastors around the globe, regardless of race. Cleveland loves ministers and wants his records to be available to graduate-level students around the world for their research, professional development and spiritual growth.
Cleveland summed up his ministry in these words: "I have seen God for so long do so much with so little, I now believe He can do anything with nothing, meaning me."