Tree Removal Underway
Top Headlines
Date:
December 21, 2007
Contact:
woody@andrews.edu
Website:
Phone: 269-471-3240
The Campus Aboretum Council recently contracted with Scott Newland, the former manager of MSU's Russ Forest, east of Dowagiac, to conduct a quality evaluation of the university forest holdings and advise the Council on the state and health of our campus ecosystem. The decision was made to have a light tree removal of over-mature and some mature trees using sustainable, ecological methods by non-mechanical removal. This means, that if three trees are too close together one will be removed to allow the other two to better survive.
The university community need not be alarmed if they see a white-haired man, with a silver-colored pickup truck, placing blue dots on trees, beginning with the two wood lots just east of the university and near the WAUS tower. There is special concern with this second wood lot's health because many children follow trails through it and play in these woods, and many of the old trees have limbs and broken tops hanging, called "widow-makers."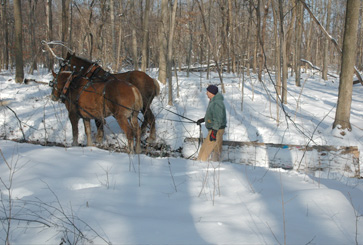 Horse logging, not mechanical, is undertaken during the winter months, when the ground is frozen, to keep forest floor damage to a minimum and allow for long-term management of the wood lots. The small limbs of the tops will be allowed to decompose, returning nutrients to the soil. The council is requesting that all persons please stay out of the woods at this time of tree felling and removal. Following felling of the trees, teams of horses will be used to remove the logs in a non-mechanical way. People are welcome to watch the big horses work from a distance in the open field and observe this more sustainable and ecological sensitive way of tree removal. Bring a camera and enjoy the process.
Monies received from the tree removal will go toward improvements to the AU Campus Arboretum, and to make our campus more beautiful and enjoyable.
We thank the community in advance for their support in this project which provides for the long-term sustainability of this valuable renewable resource. If anyone has questions about this tree removal, please contact Dennis Woodland, curator (woody@andrews.edu, 471-3240) or Stan Beikmann, director (beikmann@andrews.edu, 471-3106), Dick Scott (471-3284), Mike Villwock (471-3223) or Scott Newland (Newland Tree Farm, Marcellus, Mich., 269-646-3257).