Pittman Named Honors Program Director
Top Headlines
Date:
September 10, 2007
Contact:
pr@andrews.edu
Website:
Phone: 269-471-3315
Starting this fall, L. Monique Pittman will add to her duties as a professor in the department of English the new responsibilities of director of the John Nevins Andrews Honors Program.
Since she started teaching at Andrews in 1999, Pittman has contributed to the program both as a member of the Honors Council, and as the teacher of "Literature and the Arts." Her efforts won her the award of Honors "Teacher of the Year" in 2002.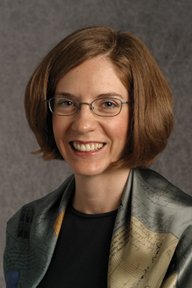 Pittman's affiliation with the program, however, extends back to her time as a student at Andrews, where she graduated in 1991. As a product of the Honors program, Pittman holds a personal interest in it. "I'm thrilled to be given the trust of overseeing a program that has been such a part of my own academic formation," she says. "When I came to Andrews, I joined the Honors Program as a freshman, and it was in those early days of honors classes that I found my own vocation as a Christian educator and my life's calling to learning."

As director, Pittman plans to expand the Junior Research Pro-Seminar as a preparation ground for the Honors Research Project, which stands out alongside the Honors curriculum as a major requirement for graduation from the program. "Our culminating research project offers students a rich opportunity to test out the waters of research and scholarship that they may embark further on in graduate and professional school programs," says Pittman.
In spite of the added workload, Pittman is excited about her future as Honors director. "I've taught in the program for the last eight years and thoroughly enjoyed it," she says. "The students are caring, humane and thoughtful individuals with whom it is a pleasure to learn. It gives me joy to be working with them."