Cultural Flavors Explode at Food Fair
Top Headlines
Date:
March 19, 2008
Contact:
ksuarez@andrews.edu
Website:
Phone: 269-471-3348
Twenty campus clubs representing cultures from around the world will come together on Sunday, April 6 from noon to 7 pm for the 44th annual International Food Fair at the Johnson Gym on the campus of Andrews University in Berrien Springs, Mich. This reflects a date change from the previously announced date of Sunday, March 30 .
Each spring, clubs representing the internationally diverse student body of Andrews University join together for this flavorful, cultural event. More than 150 volunteers prepare vegetarian fare representing cuisines from all corners of the earth—Southeast Asian, Caribbean, European, Korean, Brazilian and French, to name a few. Each booth will offer an authentic menu while also showcasing a bit of cultural flair with music and decorations.
Each year, about 5,000 visitors have the opportunity to try some familiar ethnic favorites, such as eggrolls, quiche and calzones, as well new dishes including samosas (a Southeast Asian triangular-shaped pastry shell with a savory filling of spiced potatoes, onions and peas), chapati (an Indian bread that is puffed up like a balloon) and kelewele (a fried plantain chip seasoned with spices and traditionally made in West African countries).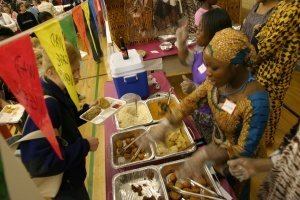 From the savory to the sweet, there will be plenty of desserts to tantalize visitors' taste buds. Exotic desserts—such as brigaderio (a Brazilian chocolate fudge candy) —are available alongside the traditional American favorites of strawberry shortcake and ice-cream.
In recent years, approximately $20,000 has been raised through the once-a-year International Food Fair, held annually since 1964. All the proceeds benefit the various participating international clubs.
Food tickets can be purchased the day of the event in the ticket office of Johnson Gym. Tickets are sold in increments of $5 and menu prices range from 50-cents to $6. There is no admission cost to the fair. For more information, please contact the office of International Student Services at 269-471-6395.