2008 Faculty and Staff Awards Presented
Top Headlines
Date:
March 5, 2008
Contact:
ksuarez@andrews.edu
Website:
Phone: 269-471-3348
Andrews University's faculty and staff were joined by the Board of Trustees for their annual faculty and staff service awards presentation followed by a reception in the Howard Performing Arts Center on Monday, March 3. The evening centered around the presentation of the Daniel A. Augsburger Excellence in Teaching Award, the Spiritual Life Award, the Staff Excellence in Service Awards and Years of Service Awards. Each award was presented following a short slideshow presentation highlighting the qualifying attributes of each recipient.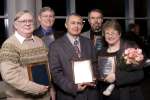 Six faculty members were honored with the Daniel A. Augsburger Excellence in Teaching Award. This award recognizes faculty whose teaching reflects the high standards of excellence modeled by Dr. Augsburger in his 60 years of teaching at Andrews University. Augsburger's leadership, academic rigor, breadth of knowledge, teacher-scholar role, along with care and concern for students, exemplify the best of faculty endeavors. Faculty from each school nominates and chooses their individual candidates. This year's recipients were: Richard Davidson, professor of Old Testament interpretation and chair of the Old Testament Department; Stephen Thorman, professor of computer science and physics; Gary Gifford, associate professor of leadership and educational administration; Armand Poblete, instructor of information systems; Margarita Mattingly, professor and chair of the Department of Physics; and Carlos Flores, professor of music and chair of the Department of Music.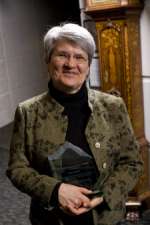 The Spiritual Life Award was presented to Jane Sabes, professor of political science. Described by her nominators as an ever-strong spiritual influence on student and colleagues alike, Sabes, who was surprised by the announcement, said, "I thought I was coming tonight to help pass out brochures!"
The Spiritual Life Award is bestowed upon any employee, faculty or staff member who has made a significant contribution to the spiritual life of the campus. Nominees are considered and voted upon by the Spiritual Life Committee. This award was instituted in 2005.
Three staff members were recognized with the Staff Excellence in Service Award. Recipients of this award are hourly or salaried full- or part-time staff who have served for at least three consecutive years, and have not previously received the award. The award is given "in recognition of outstanding service to the university, the church, and the community, and for demonstrating, by precept and example, a Christ-centered life." This year's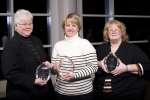 recipients were: Lori Guerrero, dispatch supervisor for the Department of Public Safety; Jillian Panigot, an administrative assistant in the Physical Therapy Department; and Shelly Erhard, guest relations coordinator for the Office of Enrollment Management.
Erhard, who was affectionately referred to as Director of First Impressions in a video tribute, says her word creed is, "To be the first friendly face that makes someone feel welcome when they come to Andrews University."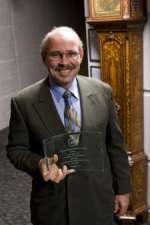 Greg Offenback was given special recognition for his 30 years of continuous service with Andrews University. Offenback says nearly his entire career has been working for the University. "I spent the first 14½ years in the farm and dairy, and the last 15+ years in plant services. I plan on retiring from there some day," he says.
The awards portion of the evening concluded with recognition of employees with 5, 10, 15, 20, and 25 years of service with the University.
5 Years: Carmen Infante, Jillian Panigot, John Lau, Wanda Poole, Ildiko Gyeresi, Shanna Leak, Michelle Guild, Karen Reiner, Nereida Vargas, Stephanie Wylie
10 Years: Shelly Erhard, Carolyn Hurst, Esther Lonto, Gorden Doss, Cynthia Small, Rebecca Wright, Elizabeth Kohltfarber, Carala Willis, Glenice Kaping, Alfredo Ruiz, Constance Gane
15 Years: Tamara Condon, Kathleen Ekkens, Cheryl Kean, Mencia Shelley, Bruce Bauer, Millie Das, Najeeb Nakhle, Dennis Grzybowski, Maxwell Jardine, Ray Ostrander, Renee Skeete
20 Years: Gerard Damsteegt, Bernard Helms, Dorothy Show, Richard Show, Herbert Helm, Mildred McGrath
25 Years: Michael Harrington, Susan Murray
The evening also included various musical selections performed by Justin Jeffery, Juan Carlos-Rodriguez, Chenoa Jimenez, and the University Singers conducted by Stephen Zork.