Grammy Award Winners Take 6 in Concert
Top Headlines
Date:
March 20, 2008
Contact:
ksuarez@andrews.edu
Website:
http://www.itickets.com/
Phone: 269-471-3348
The timeless musical group Take 6, once called "the baddest vocal cats on the planet" by mega-producer Quincy Jones, and the original influence behind pop groups Boyz II Men, Backstreet Boys, and N'SYNC, are coming to the Howard Performing Arts Center as part of the Christian Artist Series on Saturday, March 29, at 8:30 p.m.
For over 20 years, Take 6 has been well-known for their blend of jazz, pop, gospel and R&B into a smooth a cappella harmony. The group has received over 30 nods from the Dove Awards, Soul Train and the NAACP, to name a few, including 18 Grammy Award nominations. Take 6 is the most nominated gospel, jazz, pop, or R&B artist in Grammy history and have won a staggering 10 Grammy Awards.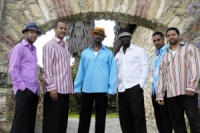 In the past, Take 6 has performed with music legends that include Ella Fitzgerald, Miles Davis, David Foster, Al Jarreau, Stevie Wonder, Denyce Graves, The Yellowjackets and Wynton Marsalis. With all the fame and praise, Take 6 remains committed to using their music as a testament and ministry to their listeners.
On top of their success as performing artists, the group recently launched Take 6 Records. Alvin Chea, a member of Take 6, says this career move was a natural progression for the group. "Traditional record companies want to lock you into a particular category…We decided to take the reins on this project and our careers so we could position our projects in the marketplace by how we felt led."
Tickets for Take 6 are $35 for adults and $20 for Andrews University students. In the event regular seats sell out, Choral Terrace seats will be available for $20. To purchase tickets, call the Box Office at 888-467-6442 or 269-471-3560. Tickets are also available online at www.itickets.com. An extra fee is charged for this service.