Going Green promoted on Earth Day
Top Headlines
Date:
April 24, 2008
Contact:
ksuarez@andrews.edu
Website:
Phone: 269-471-3348
Two major events took place on Tuesday, April 22, turning the focus on campus to Earth Day. An Eco Concert hosted by the University Senate, Student Senate, ACTION and the Village Green Preservation Society was followed by an Eco Rally in Seminary Chapel.

Musicians, students, staff and faculty from across campus came together on the lawn in front of the James White Library steps for a concert in celebration of Earth Day. Before playing, Bruce Pearson of Garage Voice drew attention to the Christian responsibility of taking care of the earth. "God has entrusted us with the stewardship of his creation," said Pearson.

Heather Knight, provost, gave an overview of the green movement on college campuses across the country, including LEED Certification for Green Building. The Leadership in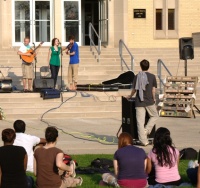 Energy and Environmental Design (LEED) Green Building Rating System™ encourages and accelerates global adoption of sustainable green building and development practices.

Tom Goodwin led a 30-second time of thankfulness for what God provides to us on Earth—and then described what the human impact is during those 30 seconds. "In just 30-seconds time, 14,000 plastic water bottles are thrown away in North America, equaling 467 plastic water bottles in just one second," said Goodwin.

Leeor Schweitzer, a student leader from EnvOrg at Kalamazoo College, shared the student-led award winning environmental activities on his campus.

Ben Chilson gave an update of improvements on the environmental impact achieved through the new Dining Services, including a proposal to significantly reduce the use of non-biodegradable take-away containers by: 1. choosing to dine-in with friends in the newly renovated spaces; 2. providing green take-away containers for a slight surcharge.

A representative from Gateway Recycling Services in Berrien Springs complimented university students for their initiatives that improve our community. It was students from our School of Business Administration who provided a proposal for the Gateway Recycling in 1989, which has successfully provided employment for individuals with disabilities ever since. In 2007, Gateway collected 1.4 million pounds of paper. Call 471-2897 if you wish to bring paper to Gateway for recycling. They also provide a document shredding service.

Mark Moreno from the School of Architecture described some of the principles that impact the way communities live together and impact the environment.

The event also included an opportunity to sign a covenant document for those wishing to express personal commitment to forwarding environmental issues on campus. The signatures will be presented to President's Cabinet on Monday, April 28. If you would like the opportunity to sign the document, contact GoGreen@andrews.edu.