Andrews Helps Recycle Unused Electronics
Top Headlines
Date:
April 14, 2008
Contact:
ksuarez@andrews.edu
Website:
Phone: 269-471-3348
A steady stream of cars, trucks and vans—as many as 30 at a time—lined up in the Andrews University Transportation Department warehouse parking lot as they waited for their turn to recycle unused electronics at a recycling event hosted by Andrews University on Wednesday, April 9.
The recycling event, sponsored by Berrien County, brought together staff and student volunteers from across campus to meet with hundreds of area residents wishing to do their part to help protect the environment—one electronic device at a time. As the unused equipment was dropped off—tvs, computers, monitors, even an old overhead projector—volunteers sorted and stacked the items onto pallets. Once the loaded pallets were shrink-wrapped, the recyclables were loaded onto four trucks.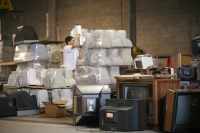 According to Jill Adams, Berrien County Environmental Specialist, this was the second largest recycling collection event ever for electronics in Berrien County. "We estimate there were over 265 participants. We counted each resident, business, school and Andrews University (as a whole) as one participant each. We filled two 53-foot semi-trucks and two 24-foot trucks full of equipment," said Adams. In total, 56,709 pounds of electronics were collected.
The recyclables were taken away by Classic Computer Recovery in Garden City, Mich. The company manages the receipt, disposal, and re-use of electronic equipment.
This event was successful, in part, thanks to the volunteers who helped direct traffic, record information and unload equipment. "We really appreciate all the people at Andrews University who helped organize, promote, set-up and execute this collection event. The volunteers were fantastic. We couldn't have done it without them," said Adams.

View additional links on this story
Fox 28: Going Green in Berrien County
WNDU: Andrews U. helps community recycle electronics