Fox 28's Morning Show Comes to Andrews
Top Headlines
Date:
May 6, 2008
Contact:
ksuarez@andrews.edu
Website:
http://www.fox28.com/MorningShow/
Phone: 269-471-3348
A Fox Hunt at Andrews University? Wait. Don't misunderstand. There wasn't another dangerous animal sighted on campus: It was Elishah Oesch and Steve Duvall from Fox 28's Morning Show crouching in front of the bushes of the Howard Performing Arts Center in the pre-dawn hours on Monday, May 5, giving the first secret location clue for the annual Fox Hunt—a series of live broadcasts at secret locations throughout the Michiana area.

Each week during the month of May, the Fox 28 Morning Show does a switcheroo: the anchors head out of the studio while the morning reporter takes over the anchor desk for a day. The crew selects a location often overlooked in Michiana and then highlights great features each location has to offer. Clues are given about the location and viewers are encouraged to "find" the secret location and claim a prize.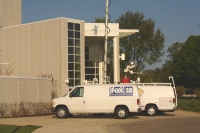 During the first two hours of the show, Oesch and Duvall gave six clues to their location, including "It's north of the border"; a drawing of three $20 bills (Andrew(s) Jackson), the word "Verse" and a drawing of a city; and the most obvious clue, a shot of the two anchors standing in front of a table covered with an Andrews University tablecloth. Shortly after 8 am, the grand prize winners of tickets to Cedar Point beat Jeff Trubey of Plant Services to the prize by about 10 seconds.

The last hour of the live local show featured interviews and live demonstrations with members of the Andrews University family. Coach Christian Lighthall and members of the Andrews University Gymnics team set up red silk ribbons in the Howard lobby and performed a 4-minute routine while Coach Lighthall was interviewed by Steve Duvall.

A stairwell off of the Howard Lobby was transformed with a Bedouin tent—complete with authentic furnishing—courtesy of the Horn Archaeological Museum. Constance Gane, curator, wore a very colorful, culturally authentic garment and briefly educated Michiana about Bedouin culture.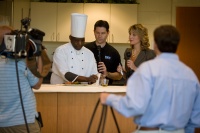 The program concluded with a live vegetarian cooking demonstration by James Tramel, food production manager for Dining Services, who prepared black bean and cornmeal loaf with fresh tomato salsa.

Each segment is available for viewing until Sunday, May 13, by visiting www.fox28.com/MorningShow/ and clicking on the links under the "Monday" heading.