Hamel Ranked #1 Business Thinker
Top Headlines
Date:
May 12, 2008
Contact:
ksuarez@andrews.edu
Website:
Phone: 269-471-3348
Andrews University graduate, author, consultant and management educator Gary Hamel addressed students from the class of 2008 as commencement speaker for the graduate ceremony on Sunday, May 4. The following day, Hamel was recognized by The Wall Street Journal as a top influential business thinker in the article, "New Breed of Business Gurus Rises."
After receiving an honorary Doctor of Business Administration degree, Hamel's address, "Exceeding Expectations," encouraged Andrews' graduates to think and do outside the box. "Not so long ago, success in business came from sucking up to the boss and toeing the company line; now it comes from blowing up industry dogma and out-maneuvering the old guard."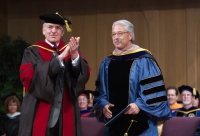 In the business world, Hamel has heeded his own advice—the day after his commencement address on campus, The Wall Street Journal (May 5 edition) ranked Hamel #1 on a list of influential business thinkers, ahead of New York Times columnist Thomas Friedman and Microsoft chairman Bill Gates. (The results were based on Google hits, media mentions and academic citations.) Hamel rose to the top spot from No. 7 in the 2003 ranking.
Best-known for writing about corporate strategy, Hamel is also a consultant and management educator. His newest book, "The Future of Management," released last year, explores companies such as Google, Inc. to tap managers' interest in new ways to run their businesses.
Hamel earned a Bachelor of Science in Business Administration from Andrews University in 1975 and Masters of Business Administration in 1976. He returned to campus last fall as a guest speaker at a business seminar for Lakeland Health Care and Whirlpool Corporation executives, held at the Howard Performing Arts Center on the Andrews campus. Much of Hamel's extended family has dedicated their professional talents to the Andrews community, including his father, Paul Hamel, who is professor emeritus of music, and Gary's twin brothers, Loren and Lowell, who have operated University Medical Center in Berrien Springs, Mich. for many years.
Related link
The Wall Street Journal: New Breed of Business Gurus Rises