Sabes Named Principal of Newbold College
Top Headlines
Date:
May 12, 2008
Contact:
ksuarez@andrews.edu
Website:
Phone: 269-471-3348
TED Staff/TED News: On May 11, the Newbold Board voted to appoint Professor Jane Sabes to serve as Principal at Newbold College. The decision was endorsed by the Trans-European Division Executive Committee the following day. It is the intention that Dr. Sabes will assume her duties at the College in August.
Dr. Jane Sabes is currently a political science professor at Andrews University, Berrien Springs, MI. She joined the faculty in 1999. Dr Sabes received her Bachelor of Science from Columbia Union College in Takoma Park, MD, her Master's in Public Health from Loma Linda University, CA, and a Master's in Public Administration from the University of Wyoming. In 1999 she earned her doctorate in political science with emphasis in international public policy and public administration. The title of her dissertation was, "A Comparative Analysis of China's Four Movements of Political Change in the Twentieth Century."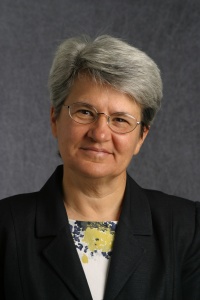 Dr. Sabes served as director of health services for the Seward Peninsula in Alaska, covering fifteen Eskimo villages and the city of Nome. She also has international work experience in Libya, China and Indonesia. Before assuming her current position, Dr. Sabes worked as policy advisor for the governor of Wyoming and then was appointed to the governor's cabinet as Director of the Wyoming Department of Health, having a staff of 2,000 and managing a biennial budget of $600 million.
Dr. Sabes specializes in teaching international public policy and public administration, issues surrounding religion and politics, and genocide and human rights.
She also organizes annual study tours for her students to places such as Cuba, considering the effects of the US forty-year trade embargo; Australia and Fiji, looking at first nations' peoples' issues; the People's Republic of China, pondering how a dynamic economy can coexist with a rigid national government; and Greece, creator of the first city-states.
She has a broad experience of teaching and educational administration, and has worked in this field and curriculum planning at Kettering Medical Centre, Kettering, Ohio, and Clinical Faculty at Wright State University, School of Medicine, Dayton, Ohio.
Dr. Jane Sabes is a devoted Seventh-day Adventist educator, deeply involved in the life and witness of the Church. She has authored a Sabbath School Bible study Guide on 'God and Government' which will soon be studied by Sabbath School members across the world.

Related story:
Newbold College: Appointment of New Principal