Recent Grad Wins Home Design Award
Top Headlines
Date:
May 9, 2008
Contact:
sschlinker@aarp.org
Website:
http://www.aarp.org/families/home_design/
Phone: 517-267-8919
Monique Reid, a student who graduated on May 4, 2008 with an architectural degree from Andrews University in Berrien Springs, Mich., is the first place winner in the "House of Freedom" National Student Design Competition sponsored by AARP and the American Institute of Architecture Students. In developing their submissions, students participating in the competition researched and responded to the unique aspects of designing a home that is usable by all people, regardless of age or ability. Reid was awarded $2,500 for her winning home design.
"I had so much fun designing this home!" Reid said. "For me, entering this competition was both a learning experience as well as a challenge. I wanted to learn more about universal design and challenge myself to create a home that would be appealing to all regardless of their age, height and/or their physical abilities so I could apply the principles in my future practice."
AARP and the American Institute of Architecture Students (AIAS) sponsored this new student design competition for the first time during the 2007-08 academic year. The Ethel Percy Andrus "House of Freedom" design competition challenged students to learn about universal design while creating an attractive design for a single-family home that is safe, comfortable and accessible for people of all ages and abilities.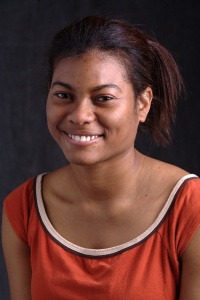 "As a Christian who has been entrusted to be a good steward of the earth's resources, it is important that I design a home that is adaptable," Reid said. "I have watched my aunts and grand-aunts struggle to get into their homes and their baths. It is necessary for me to design a home that they and others can comfortably use through their lifetime."
Universal design is the design of products and environments that are usable by all people regardless of age or ability. It includes home design features and products that make a home safer and more comfortable for all residents, even when their needs and abilities change.
"I hope that more architecture schools teach the principles of universal design," Reid said. "I find myself explaining what Universal Design is to many of my peers. Eventually I would like to see it become second nature to all architects, maybe even become a part of the building code."

The competition is named after Freedom Home in Washington D.C., a home created under the supervision of Ethel Percy Andrus, founder of AARP. In 1961, a full-scale model of Freedom Home, which adapted traditional architectural details to serve the needs of older residents, was built in Washington D.C. for the 1961 White House Conference on Aging. The architectural concept exemplified by Freedom Home would later come to be known as "universal design." AARP and the AIAS presented the "House of Freedom" design competition to honor Dr. Ethel Percy Andrus's vision and to celebrate AARP's 50th Anniversary in 2008.
"Universal design allows everyone to have equal access without the need for special adaptations," Debra Lindstrom-Hazel, Executive Council Volunteer for Livable Communities for AARP Michigan, said. "AARP is committed to helping to make more livable communities. The concept of livable communities includes accessible and affordable housing as well as transportation options that allow us to stay engaged in our community. We are very proud of Ms. Reid for winning this competition and congratulate her on this honor."
The award-winning entries will be displayed at the 2008 AIA Convention and Design Exposition in Boston, May 15-17, 2008 and at AARP's 50th Anniversary Life @ 50+ Member Event in Washington, D.C., September 4-6, 2008. The winning projects will also be published in the fall 2008 issue of Crit, Journal of the AIAS.

Related news story
WSJM: Andrews Grad Wins National Design Award