Octet Cantabile to Perform
Top Headlines
Date:
May 9, 2008
Contact:
ksuarez@andrews.edu
Website:
Phone: 269-471-3348
The Octet Cantabile, one of the foremost singing sensations from Chennai, India, are bringing their sound to the Howard Performing Arts Center at Andrews University on Saturday, May 17. The group of eight mixed voices will perform in English and Indian languages. The free sacred music concert begins at 7 pm. While music forms an integral part of the presentation by the Octet, the focus, however, is God and a desire to spread the gospel of peace and love through their singing. In support of that mission, a freewill offering will be collected.

The Octet Cantabile has been making music together since 1994. Their sound ranges from classical with the music of Bach and Mozart to the contemporary sounds of country, reggae and rock and everything else in between. While singing a cappella is their forte, musical accompaniment sometimes rounds out their sound.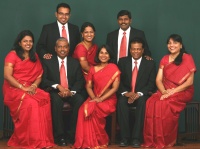 The leader of The Octet Cantabile, Augustine Paul, is the conductor for the Madras Music Association in India. Under his leadership, they are the only group in India who has cleared the Advanced Level in Ensemble singing with distinction, an examination conducted by the Trinity College of Music, London.

Receiving great adulation wherever they perform, the Octet Cantabile has performed across the Indian sub-continent and has also shared their music overseas where they have captivated audiences during two highly successful concert tours in Malaysia. Their recordings have been sold worldwide. Their latest work, "Christmas Rhapsody", a collection of carols in Tamil and English, was released December 2007.