Oliver Davis Honored for Forty-Under-40
Top Headlines
Date:
June 5, 2008
Contact:
ksuarez@andrews.edu
Website:
Phone: 269-471-3348
Oliver J. Davis, Jr., ACSW, LCSW, LMSW, assistant professor of social work at Andrews University, was honored on May 23, 2008, as a member of the Michiana Region Forty-Under-40 class of 2008. The honoree luncheon, held at Bethel College, honored forty individuals who professionally and personally strive to make Michiana a better place to live. For Davis, it is an acknowledgement of his years working to integrate his faith with politics, something he has been doing since he won his fourth grade election for class chaplain.

Davis was nominated by TRANSPO (South Bend Public Transportation Corporation), where he serves as chair of the Board of Directors. His role at TRANSPO, a federally funded organization, takes him to Washington, D.C. twice a year where he meets with congressional leaders and experiences politics firsthand. Davis is also very active in the political network in the South Bend, Ind., area. He took a leading role in campaigning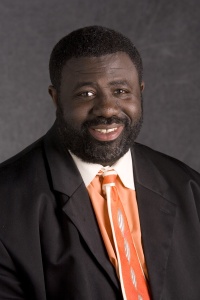 locally for democratic presidential candidate Barack Obama during a handful of northwest Indiana campaign stops and was even interviewed in The Washington Post about local efforts for Obama's campaign. Davis is the vice-president of the South Bend Common (City) Council. He was elected to the council's 6th District seat in November of 2007.

For the past four years, Davis has served as the BSW Program Director at Andrews University. Prior to joining the Andrews University faculty, Davis taught on the Indiana University School of Social Work graduate faculty at the Indiana University South Bend MSW Program in South Bend, where he served as a visiting lecturer in social work, a social work field instructor and on the MSW program advisory council. He is also a poet who integrates his work within his course content and lectures. For the past three years, Davis has chaired the Arts Festival at the annual CSWE APM, in which social work educators' present ways in which they integrate the arts within their dissemination of social work education.

He is also serving a second one-year term as chair of the Andrews University Senate and is an ordained elder in the Berean Seventh-day Adventist Church in South Bend, Ind.
Davis received his BSW from Oakwood College in Huntsville, Ala. in 1991; his MSW, with a specialization in child & family services and a course concentration in clinical work, from Ohio State University in Columbus, Ohio in 1992; and is currently pursuing his PhD at Andrews University in educational psychology.

The Michiana Region Forty-Under-40 concept is a collaborative project involving the regional Chambers of Commerce, The Truth in Elkhart, the South Bend Tribune, Bethel College and a number of major employers intended to recognize and honor forty young professionals within this region for their contribution and accomplishments in both their workplace and community. This year, the selection committee received nearly 100 nominations.