Wolfer Wins at SONscreen Film Festival
Top Headlines
Date:
May 6, 2008
Contact:
ksuarez@andrews.edu
Website:
http://www.sonscreen.com/
Phone: 269-471-3348
Timothy Wolfer, photography major at Andrews University and Andrews Academy alum, took home the top honor for Best Music Video for "Safe from All Alarms" by Garage Voice from the sixth annual SONscreen Film Festival held April 10-12. In addition to bragging rights, Wolfer also received a $250 cash award.

Wolfer has been honing his skills through his work with WNIT Public Television and AUTV, a student-initiated and directed broadcasting venue for Andrews University. He hosts his own show, "de Caf" on AUTV, which he co-founded.

Wolfer says he was inspired to try his hand at filming and editing after seeing a music video produced by a fellow student worker at WNIT. "It was totally cool and I wanted to make one just for the experience. Driving home that night I called up my buddy John Hood and the band (Garage Voice). We decided to shoot a music video."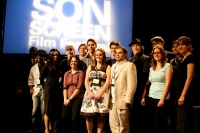 His ambition and creative drive took over from there. Wolfer wasted no time and just a few short days later, he sat down with the band, mulled over some ideas and began shooting the video, though at the time they didn't have concrete plans for the finished project. "Shooting the video took eight hours, with 19 takes using two different cameras," says Wolfer. Then came the hard part. "I spent over 100 hours editing, a lot of which was creating the artistic look I was going for."

No stranger to SONscreen, Wolfer entered the film festival in 2007 and was blown away by the experience. "It was a great experience being in a room full of people that share your same passion, dreams and beliefs."

This year was different. Wolfer walked away with another positive creative experience—and the top prize for Best Music Video. "This award taught me to chase my dreams and passions for all I am worth, because in the end that's what I am going to work hardest at and be most proud of."

Though Wolfer is proud of his hard work and accomplishment, he is quick to give credit where it is due. "WNIT is really the place I give all the glory. They have given me a lot of the knowledge I need to make things happen."

For now, Wolfer doesn't have another music video brewing, but he stays busy with lots of other projects, including commercial production for clients of his company, Wolfer Productions, and a video project in Mozambique, a country in southeastern Africa, for Maranatha. What the future holds is anybody's guess, but Wolfer isn't simply leaving it to chance. "We shall see where God leads."

Visit www.wolferproductions.com and click on "Latest Video" to see his award-winning music video production.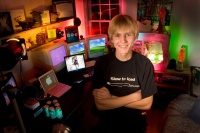 The SONscreen Film Festival is an annual event for Christian young adults who have a passion for using film and video to create timely and relevant productions for social awareness, outreach and uplifting entertainment. Since its debut in October 2002, the festival has become the destination for established and up-and-coming Christian filmmakers to share their creative work, gain exposure, and network with other media and film professionals. It is held each year at AMP Studios facility in Simi Valley, Calif., and is sponsored by the Seventh-day Adventist Church.

"Safe from All Alarms" is the first music video for Garage Voice, a band started in Berrien Springs now located in Seattle, Wash.