LithoTech is Going Green
Top Headlines
Date:
June 5, 2008
Contact:
ksuarez@andrews.edu
Website:
Phone: 269-471-6027
It's a movement sweeping the nation and it has officially arrived at Andrews University: Going Green. LithoTech, the campus-based printer and copier service in Harrigan Hall, is now an active part of the recycling community and they are offering a helping hand to motivate the rest of campus to do the same.

For the last few weeks, Lithotech has been collecting their recyclable papers in a large box on their loading dock. Now, they are inviting all campus departments to bring their recyclable papers and drop it off in the collection box on the loading dock at Harrigan Hall. For campus departments ordering paper from Lithotech, they will pick up recyclable paper waste when they are making a delivery.

"LithoTech wants to be a motivating source and motivate the campus," says Rod Church, manager. "We want to work with campus departments to let them know there are options."
Each full box will be stored in a warehouse until 22 boxes (or pallets) of paper—enough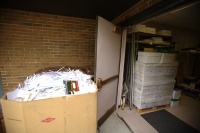 for one semi-truck load—has been collected. When a load is ready to be picked up, Padnos Paper and Plastics in Grand Rapids will come to haul it away. Church estimates the campus will generate about two semi-truck loads per year which equals about 7 tons of paper.

Kathleen Schwarz, a senior behavioral science major and a member of The Village Green Preservation Society, a student-led group concerned with the environment, says LithoTech's recycling movement began back in March following a conversation she had with Church. "As students it is important to take the role to encourage your superiors because we [students] don't have the same kind of power to make changes. We [Lithotech] do use a lot of paper and waste a lot of paper sometimes. I wanted to do something about it," she said.

Often, recycling initiatives are faced with a financial crunch: it costs to have items recycled. Church is happy to say, "While there is a cost associated with Padnos picking up a load, we actually end up making a small profit from the recycled paper. Another benefit for the university: recycling paper means we are putting less trash into the dumpster. We can possibly reduce the amount of garbage pickup and reduce costs." Church says the dumpster behind Harrigan Hall is emptied every single weekday.

Future plans include a formal way of recognizing campus departments who have decided to Go Green as well as developing more ways to encourage other departments to get onboard. "If people know what their efforts do, they feel more motivated to take action. I don't think people truly know that their conservation efforts are really making a difference," says Church.

Lithotech CAN accept the following papers for recycling:
Printed white and pastel-colored papers
Manila, white and pastel-colored folders without labels
Copy paper
NCR (No Carbon Required) forms
Envelopes (without plastic windows)
Index cards
Stapled papers
Paper wrappers from reams
Lithotech CANNOT accept the following papers for recycling:
Newspaper
Magazines and catalogs
Junk mail
Plastic-windowed envelopes
Hanging file folders
Photographs
Binder clips
Rubber bands
While LithoTech encourages the recycling of all materials, they cannot accept non-paper recyclables. For more information, contact Rod Church at 471-6513.